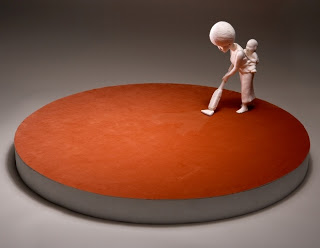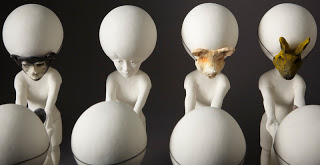 June 1st – July 28th, 2012
Opening Reception – First Friday, June 1st, 2012, 6-9pm
Subtle body language and unconscious gestures form the basis of Lee's
work. Inspired by childhood experiences in South Korea, the ideas for
her sculptures come from observations of gymnastics and schoolyard
games. The physical tension of her figures references the psychological
tension of human relationships, and her humor broaches serious emotional
content.
Yeon Joo Lee was born and raised in Seoul, South Korea
where she earned her BFA in painting from Sung Shin Women's University.
She came to the U.S. to seek a new life in a different environment. The
freedom of her new life is a creative force for her ceramic work. For
the past 4 years, she has lived in Oakland, California while earning her
second BFA degree from California College of the Arts in Ceramics.
Currently Lee is an intern with Arthur Gonzalez, Nathan Lynch and John
Toki. She will be exhibiting her new work in a solo show at Red Star
Studios, on June 1, 2012. Also she will be exhibiting work in Korean
international Art Fair (KIAF) on September 22, 2012.