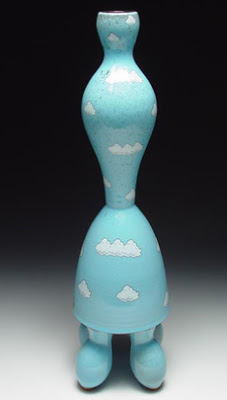 Charlie Cummings will lead this three-day, hands-on workshop breaking
down the boundaries between photography, digital image manipulation,
printmaking, and clay. Charlie will expanding participant's creative
horizon to create artworks that utilize techniques and ideas from all
these mediums.
While computers and clay may seem worlds apart, Charlie will discuss how
advances in digital software and home printer technology have made
computers an important bridge between clay and image-based art forms.
Participants in this workshop will learn to use Photoshop to create
digital collages, prepare images (photographs, drawings, paintings, or
digital) for screen printing, and to fine tune the images to get the
best possible results from the print processes used to transfer the
images to ceramic objects.
Charlie will teach how to print your photographs in full color using
common underglazes and stains. He has developed a method which avoids
the use of expensive decals, fragile photographic materials or
monochrome ceramic images.
This class will cover image manipulation and cutting-edge ceramic
techniques in a way that is accessible to all levels. Participants will
learn techniques that can be used on wet clay, leather hard clay, bone
dry clay, bisque, and glaze-fired work. Charlie will teach image
transfer techniques for every step in the ceramic process, including
photo emulsion-based screen printing to print slip and underglaze for
transfer to pots and handbuilt forms, single and multiple color
overglaze decals, and full color photographic transfers.
Participants should bring a laptop with Photoshop if possible, as well
as digital images, graphics and photographs to print. Please bring a
wide collection of images you own, or that are copyright free. Email Charlie if you have questions about what type of images to bring.
All levels are welcome, but basic knowledge of Photoshop and clay is suggested. Class size 16.
Full details here: http://www.mudfire.com/charlie-cummings-workshop-20130503.htm