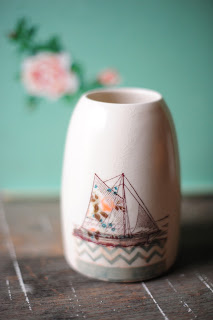 Last night I attended the opening of Cathy Terepocki's exhibition Thank-you! Come again. at Luna & Hill here in Saskatoon. As always seeing Cathy's work was inspiring. She has such a defined and unique style and aesthetic that I love. And she is truly the hardest working artist I know. Three kids and still time to be an art star!
Well it reminded me that another amazing Canadian ceramic artist had emailed a while back with a great link to a blog post someone wrote about one of Cathy's workshops. So I thought I'd share as today's site to see.
Enjoy!
printpatternproject.blogspot.ca
Also check out more about Cathy here.
Oh and make sure to also check out Marney McDiarmid's work (she's the one that sent me the link). Her work is also beyond fabulous!