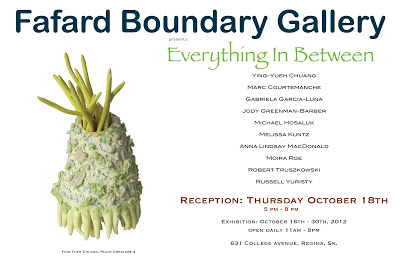 Fafard Boundary Gallery presents Everything In Between
October 16th – October 30th, 11am – 8 pm, open daily
631 College Avenue, Regina, Sk.
In its premiere exhibition Fafard Boundary Gallery is
exhibiting works from Artists across the country working in a wide
range of media. Several have their roots here in Saskatchewan, some of
which are practicing elsewhere and others have brought themselves here
from others provinces and other countries.
They
are participating in what will be a transitory Gallery. The venue, not
originally intended as a gallery, as been temporarily transformed into a
exhibition space. Future exhibits may show in a new locations.
Reception: Thursday, October 18th, 5:00pm – 8:00pm