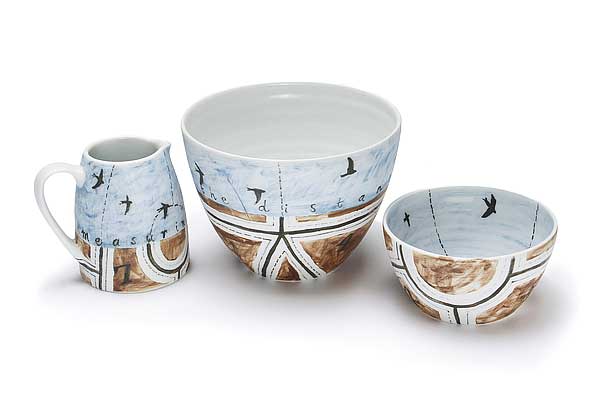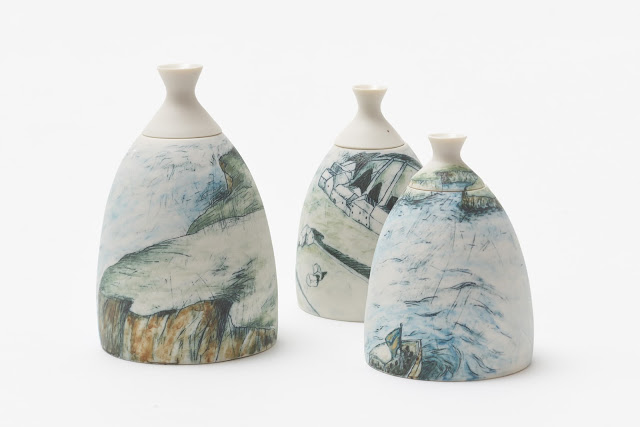 Marianne Huhn Masterclass
Saturday 12 September 10am-3pm
Cost $150
Location
Northcote Pottery Supplies
142-144 Weston Street
Brunswick East 3057
Victoria, Australia
www.northcotepotterysupplies.com.au
info@northcotepotterysupplies.com.au
Masterclass Description
Join
accomplished ceramic artist Marianne Huhn in this one-day masterclass
at Northcote Pottery Supplies as she shares her making techniques and
inspirations underpinning her extraordinary porcelain works. In a
digital presentation Marianne will outline the development of her work
and ideas, discussing her early work to the work she is currently
creating. Marianne will demonstrate her method of throwing off the hump
during the morning session. In the afternoon she will discuss her ideas,
how she uses her sketch book and demonstrate her skills and materials
for creating her unique drawings. This is a rare opportunity to get
insight into how an accomplished artist has interpreted the ceramic
vessel in her own signature style, whilst gathering knowledge and
practical tips that could be used in your own studio practice. Lunch and
coffee/tea will be provided for all participants.
Marianne Huhn Artist Statement
For
some time now, I have been making functional ceramics with distinct
narrative surfaces. The drawn line and text have combined to create
themes and images ranging from architecture to political
commentary. Initially, I drew historical architecture to refer to the
similarities houses, castles, town walls, forts and dwellings have with
functional ceramics. The fact that they both contain space within their
walls was a visual clue to the narrative/conversation I was attempting
to establish. However, in 2012 I embarked on a PhD at RMIT Melbourne –
porcelain and politics in the 21st century. I began researching the
Russian revolutionary ceramics which was produced as propaganda from
1917-1927. I use a European porcelain body and throw formson the wheel.
As a counterpoint to the industrialization of everyday shapes, I throw
to encourage a thoughtful relationship to form. Through making
individual objects of clay by hand, the sense of touch is recognized.
Slight differences in variations of a shape, a thick or thin rim, the
size and movement of a handle, encourage personal connections. My hand
has the learned ability to judge thickness of walls when throwing and
depth of line when etching on the surface. Often leaving a throwing line
or a mark that establishes my touch is important in the creation of
porcelain forms that often appear smooth and cold.
Marianne Huhn Profile
Marianne
Huhn was born in 1969, Melbourne, Australia. She began her studies in
1988 at RMIT University and finished her Master of Ceramics in 1998. She
has lectured and taught Ceramics at Universities and schools throughout
Australia. Marianne has held several solo shows in Australia and
exhibited in more than 30 group exhibitions in Australia, America, and
Hong Kong. She has been acquired by the Powerhouse Museum in Sydney and
several Regional Galleries in Australia. Marianne is represented in
Australia in New South Wales and the ACT. Marianne lives in Melbourne,
Australia with her partner and two children. www.mariannehuhn.com