2 Day workshop: October 25 & 26, 2013
9 a.m. – 5 p.m. each day
Taught by Kirsten Stingle, artist featured in Shadow Circus
As a vehicle for story telling
there are an infinite number of ways to express and interpret the human
figure. In this two-day hands-on workshop, we will explore the powerful
narrative potential of the figure through the construction of a
small-scale head and torso. Various hand-building techniques will be
covered; including pinch and slab method, and special attention will be
paid to human anatomy and proportions. Expression and gesture will be
discussed in terms of narrative intent. Beginners welcome.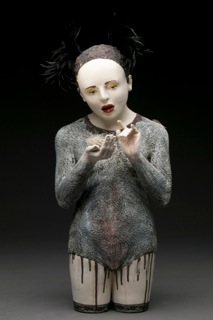 Marietta/Cobb Museum of Art
30 Atlanta Street, Marietta, GA 30060
770.528.1444