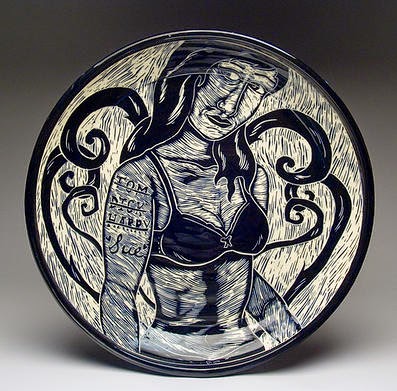 June 10-13th, 2015
The
Mary Anderson Center for the Arts is excited to host our second
Potters' Retreat. This June our presenters will be Ben Carter, Chandra
DeBuse and Kathy King.
Come to the beautiful
grounds of Mt. St. Francis for this amazing three day workshop
experience. Not only will each artist work independently, but the three
will work together, interacting and exchanging stories and insights into
their lives as working artists. This workshop is designed to be a true
retreat, set on the 450 acres grounds, you will be recharged by the
community of fellow artists and the land around you. Meals will be
provided on site by the Mount's two professional chefs and rooms are
available on site. Come and experience this fantastic retreat.
This demonstration only workshop
will showcase each artists' work, focusing on their approach to the
surface and decoration. The intimate and personal talks with each artist
will give insight into their process and the unique approach each of
them take to their work.
Ben Carter will
demonstrate quick manipulations of soft wheel thrown clay to create
expressive pitcher, bowl, and cup forms. He will also cover decorating
with deflocculated slip and techniques for drawing on clay, including
sgraffito, wax resists, and underglaze painting.
Chandra DeBuse
will demonstrate how she designs unique and personal pottery forms using
simple and inexpensive materials, such as plywood and craft foam. In
addition to handbuilding, Chandra will share techniques used to alter
wheel-thrown work and to create multiple parts for building narrative
pots.
Chandra will share her surface decoration techniques, which include
sprigging, stamping, freehand drawing, underglaze inlay, sgraffito, and
the use of wax resist to create a layered and colorful surface.
Kathy King will
demostrate how to center on building a personal vocabulary of imagery
while considering methods of composition of that imagery onto the
wheel-thrown and hand built ceramic form. With humor as a tool to
create narratives within her work, King will introduce some
non-traditional ideas about function and methods of storytelling. She
will carve through slip-colored clay (sgraffito) and will showcase other
methods on leather-hard clay with transfer techniques such as decals,
silk-screening, resist printing from a photocopy and block-printing
images onto clay. In addition, glaze techniques that will enhance
surface work will be demonstrated.