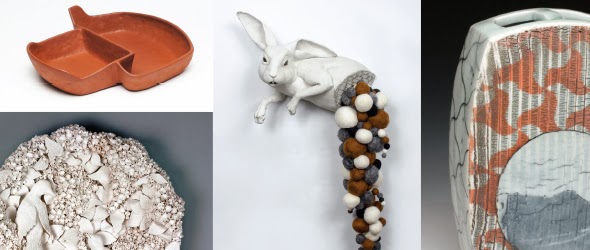 Emerged: After the Residency
March 14 – April 20, 2014
Reception: Friday, March 14, 6-8pm

Curated by Bill Griffith,
this exhibition features new work by eleven exciting artists who have
who've recently completed ceramic residency programs.
From the Curator:
"Residency programs provide a unique transformative experience, usually
outside of an academic setting, often at pivotal times in an artist's
career. At their best, these programs support artists with the gift of
time and an atmosphere that encourages experimentation, professional and
personal growth, and lots of questions and sometimes only a few
answers. Residencies also play an important role in providing a
community of peers for a period of time while continuing to expand the
circle of artists, educators, mentors, and collectors outside of that
community. In the end, residencies are as much about discovering who we
are as artists and people as they are about what we make.
Emerged: After the Residency is especially personal and
important to me having experienced the "emergence" of over 100 early
career artists through my work as residency program director at
Arrowmont School of Arts and Crafts since 1992. In order to be
considered for this exhibition, ceramic artists must have completed a
residency program within the past 3 years. I reviewed the artwork of
many artists, some of the work I saw in person and some of the work
through only images in websites or publications. In making my final
selections for Emerged, I chose artists whose work engaged me
aesthetically, awed me technically and maintained my curiosity without
having to read the titles or artist's statements."
About Bill Griffith
Bill Griffith is a ceramic artist and the program director of Arrowmont School of Arts and Crafts
in Gatlinburg, Tennessee. He received a B.S. degree in Art Education
from Indiana State University and an MA in Ceramics/Art Education from
Miami University, Ohio. During Bill's tenure as Assistant Director and
Director of Programs at Arrowmont he has initiated and managed a long
legacy of new art education programming and created the Artists-in-Residence program which is now in its 20th year providing opportunities for early career, emerging artists.