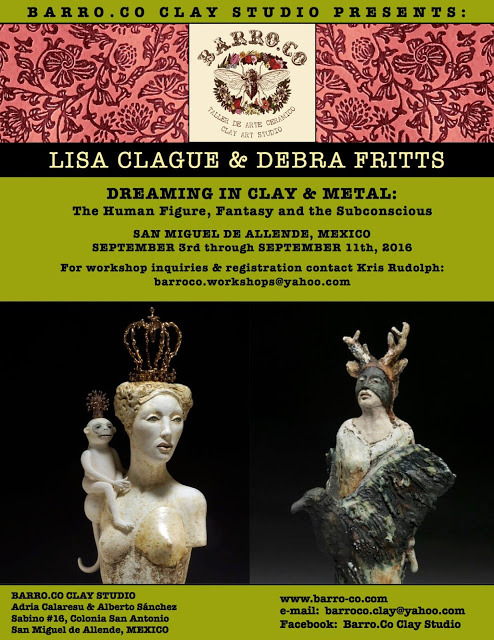 Lisa Clague & Debra Fritts
DREAMING IN CLAY: The Human Figure, Fantasy and the Subconscious
Barro.Co Clay Studio, San Miguel de Allende, Mexico
September 3rd – 11th, 2016
The Reliquary Figure: a personal journey
San Miguel De Allende is rich with inspiration, cobblestone streets,
religious imagery, architecture, and endless surfaces that show the
passing of time. During this workshop we will allow our surroundings as
well as our own visions to inspire us as we create the human figure.
We will visit the Mask Museum in town and the Sanctuary of Atotonilco in
the countryside, which will help fill us with a vast display of
history, imagery and imagination. Debra and Lisa will demonstrate
daily, their individual building techniques. Incorporation of metal,
found objects and slip dipped fabrics will be introduced. Both
instructors will discuss color and surface texture using the numerous
engobes available at Barro.Co Clay Studio. Discussion will surround the
human form as a spiritual vehicle to embellish with ones own vision,
narrative or surreal. In addition, we will begin the day with a simple
meditative exercise in clay to generate our energy, and the objects will
be used as test tiles for finishes. We will combine our intuition,
personal experience and the influence of the city to discover new
possibilities in our work.
Lisa Clague: Lisa Clague Sculpture
Debra Fritts: http://debrafritts.net
San Miguel de Allende, a colonial treasure in the mountains of central
Mexico, stands still in time with its pastel-colored houses,
centuries-old churches, and cobblestone streets. A UNESCO World Heritage
Site that was recently rated by Condé Nast as the best city in the
world to live, San Miguel offers a favorable year-round climate, an
active arts community and a laid-back environment that stimulates
creativity.
You can read more about San Miguel at: http://www.visitmexico.com/en/san-miguel-de-allende
PRICE: $1695 U.S.*
EARLY BIRD DISCOUNT: If you register before February 1st 2015, you will receive a 10% discount.
TO REGISTER: A 30% deposit is required for registration.
*Price includes: 6 full days in the studio (see itinerary below) with
all necessary materials, as well as daily coffee, tea and snacks, all
lunches, welcome dinner, farewell dinner, all listed tours and
activities.
**Not included: Flight, accommodation, optional cooking
class, alcoholic beverages, optional firing and shipping of sculptures.