So as I began my day on Sunday, charged with a list of tasks to try to get completed on one of the few days I have my husband home to help watch the little munchkin, I got entirely sidetracked…It all started with our charming new kitten exploring in the dark depths of our basement storage only to find my packing materials and a goldmine of a bag of styrofoam popcorn. Needless to say the new game that began involved bringing the popcorn upstairs piece by piece to present to my son as a toy. We discovered them both playing away (luckily my son had his pacifier in mouth!) covered in styrofoam bits…sigh. So began the task of ridding the basement of these tiny horrors before it was too late. In the process I did manage to run across a box that had been sadly water damaged months before when our tub had leaked and to my delight and surprise I had stumbled across a bunch of old pictures from my college days. List of tasks for the day completely out of mind I spent the next while going through old memories, rediscovering old friends and handling cherished momentoes. In the midst of the pile of pictures I found the following which brought a smile to my face and reminded me of how far I've come (even if it doesn't feel like it everyday).
These pictures are of the first kiln I ever tried to build, must have been over ten years ago now. It's embarrassing to even show you (and now I question why I even am?) The first shows our pathetic attempt at working with the worst of discarded kiln bricks to build the floor of our raku kiln. Wobbly much? It makes me laugh out loud!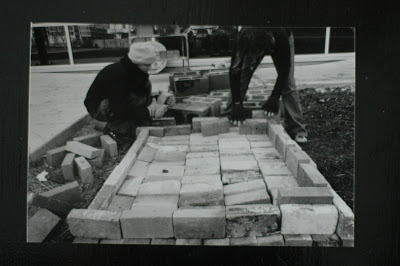 The second shows the floor after our probably 4th or 5th attempt. A little more stable.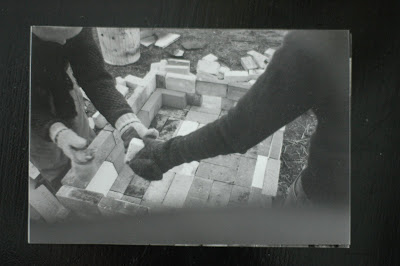 In the end it wasn't the worst kiln ever, but it might have gotten an honorable mention. We did fire it quite a few times, enough for me to decide I really didn't care much for the raku process for my work, but I did enjoy the challenge of kiln building. And I also really enjoyed the atmosphere around the raku firings. Being that we were on the university campus we often had to fire at night when there were less students around (or maybe it just took that long for the sad little kiln to reach temperature?!) Often students from the surrounding dorms would come by to see what was going on as they could see the smoke and fire from their dorm windows. We'd often find ourselves with great company, pizza delivery and beer….aww college life! It was good times all round, not that we ever fully appreciate them at the time. I'm also reminded of this by the photos I found of the late, and oh so great, Marilyn Levine giving studio visits and critiques with us students. An opportunity I'd die for now…I wonder what she told me…I'd also take the good company, pizza and beer any day!