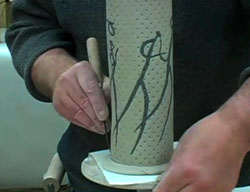 Check out the great tutorial and video
here
thanks to Ceramics Arts Daily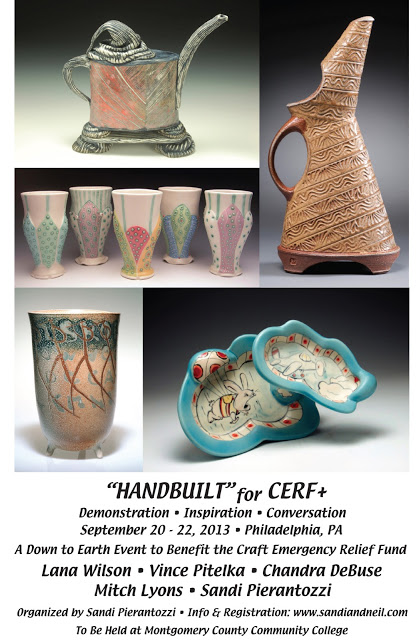 Not only can you develop your skills, you can support CERF+ at the same time!

A Conference Dedicated to Handbuilding with Clay
Demonstrators
LANA WILSON
VINCE PITELKA
CHANDRA DEBUSE
MITCH LYONS
SANDI PIERANTOZZI


Featuring:
• Handbuilding, Slip Decorating, Underglaze Inlay, Slip and Brushwork, among other Surface Decorating Techniques
• A Wealth of Practical Techniques, Tips & Advice
• "Philadelphia Clay" Exhibition of Philadelphia Studio Potters
• An Open Dialogue with the Presenters

• Slide Presentations, Sources of Inspiration, Pots 

• Tools, Books, Community, & Building New Friendships
This is a demonstration only format. Video projectors will be used for best viewing from any seat.
To be Held at Montgomery County Community College, Blue Bell, PA
(A suburb of Philadelphia)
The Exhibition "Philadelphia Clay" is sponsored by The Clay Club of Montgomery County Community College.
By participating in this
conference you are making a difference by helping CERF+ with their
mission to support Craft Artists with many aspects of their professional
lives.
REGISTRATION FEE: $250 (early registration by August 1, 2013)
(Registration Fee after August 1st is $295)
Registration Includes all Conference Activities and Lunch on Saturday & Sunday.
Organized by Sandi Pierantozzi in conjunction with Montgomery County Community College
Want to know more? Find out all the details and view the demonstrators bios here.
"In this two-part program, award-winning clay artist Mitch Lyons shares
with you some of the unuque handbuilding techniques he has developed
over the past four decades. In the first second, he shows how to apply
various textures, colored clays, and colored slips using his
"Broomstick" method for making ceramic forms without a seam. The second
section demonstrates "Handbuilding on the Wheel".