For those who may not have heard, the house and gallery of Ian Jones and Moraig McKenna were destroyed by fire last month. Ian worked at Sturt Pottery as Artist in Residence in 2000 and was an exhibitor at the Sturt Woodfire Conference in 2008. Ian's work is represented in the Sturt Permanent Collection and a number of his pieces are available for purchase through Sturt Gallery.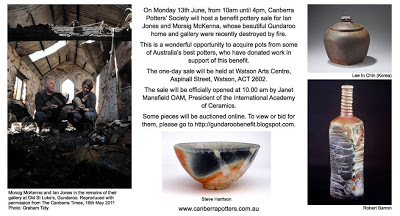 Benefit auction – Bids open 10am Monday 13th June; close 8pm Thursday 16th June Eastern Standard Time
Update: Images of work for this auction will be uploaded (http://gundaroobenefit.blogspot.com/) early on Monday June 13.
As many of you will be aware, the online auction represents a selection of the wonderful ceramic work donated for the benefit sale. Many additional pieces will be available from the one-day exhibition at
Canberra Potters' Society Gallery,
Watson Arts Centre,
1 Aspinall Street,
Watson ACT,
Monday June 13, 10 am – 4 pm!
The exhibition will be opened at 10 am by Janet Mansfield, OAM, President of the International Academy of Ceramics.
The online auction will run from 10am EST Monday 13th until 8pm EST on Thursday 16th June.