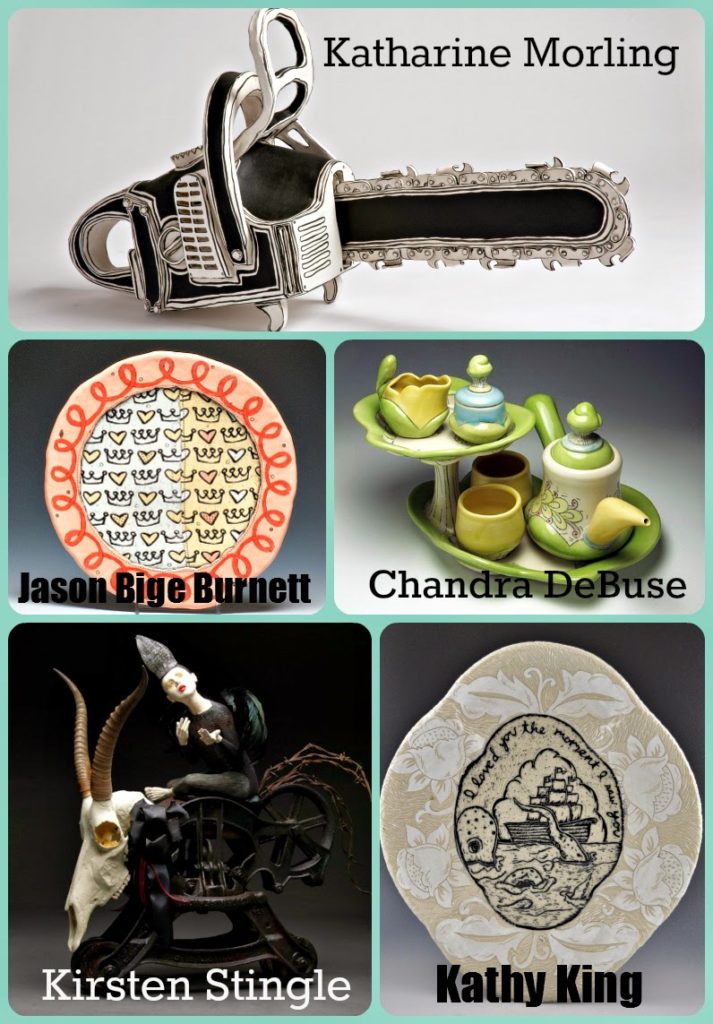 With
Chandra DeBuse
you will learn to push your artwork further with a variety of building
techniques for wheel and hand-building and a surface vocabulary that
will take your work all the way to stunning.
Jason Bige Burnett brings
a little technical innovation in a very DIY way – he shows approachable
screen and slip transfer techniques that will have you layering images
in no time!
Kirsten Stingle's
approach to the figure is both anatomical and philosophical. She will
teach you how to use proper human proportion but also how expression can
create narrative and emotion in figurative work. Plus her techniques
for heads and hands are amazing!!!
Kathy King
is a witty and informative instructor who will demonstrate how to
create story, narrative, and humor while also showing techniques to get
your work to the next level – literally – she'll be focusing on stacking
work and using components to build – Students can hand-build or throw
for this class.
And Finally Katharine Morling wraps
up our workshop season. She'll be visiting from England – bringing her
truly delightful technique of working from sketches into slabs. She'll
be working with you in porcelain and she makes some absolutely
incredible work.
For more info visit www.mudfire.com!
MudFire
175 Laredo Drive
Decatur, GA 30030