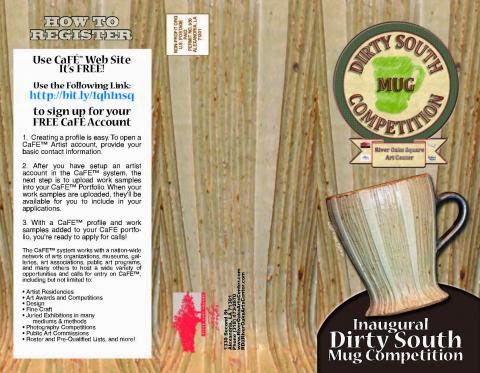 Application deadline: December 17, 2014
Open to: all artist working in clay residing in the United States. Work no larger than 10x10x10.
Give
us your best mug! To celebrate River Oaks' 30 year anniversary, the
arts center is looking for a few good mugs to include in its' 1st Annual
Mug Call to Artists/Competition. We are looking for ceramic mugs that
encompass exemplary creativity, experimentation and imagination,
showcasing what can be accomplished with ceramics. Up to 125 artists
will be chosen for this inspiring Southern event, because we all need a
good mug for our tea and coffee and if not, we always need a good
conversation piece!
Please complete and email images to CaFe with credit card information no later than December 17, 2014 at 5pm.
Call Link: http://bit.ly/1qh1nsq
Exhibit Dates: April 7th ~ May 23, 2015
Exhibit Reception: April 24, 2015 5-8 p.m.
THE RULES
The 2015 Dirty South Mug Competition is a national, juried exhibition.
Up to 125 artists will be chosen to display traditional or
non-traditional ceramic mugs at River Oaks Square Arts Center,
Alexandria, Louisiana.
• Entry Fee: $25 per artist, up to three entries (credit cards
preferable/checks mailed to ROSAC) • Work may not be larger than 10" x
10" x 10". • Open to all artists working in the medium of clay, residing
in the United States.
• Functional & Non-functional, traditional and non-traditional pieces accepted
• All work must be for sale. No single work may exceed $500 in value.
Artists will pay a 30% commission to the Gallery on all sales.
• Artist responsible for shipping/insurance cost to the Gallery. All
work must include a Return LABEL for return shipment. Return postage
will be absorbed by ROSAC . Weight Limit 15 lbs. River Oaks is not
responsible for any damage during shipment.
• Digital entry only, JPEG format, 300 dpi and no more than 2100 pixels
at the longest dimension. All files must be labeled with artist's first
initial and last name followed by entry number (ie, e.smith01).
• River Oaks will be utilizing the CallforEntry.org™, also known as
CaFÉ™, an online application and adjudication system for exhibits and
more. Go to www.cafe.com to complete your application form – the direct address is http://bit.ly/1qh1nsq
• River Oaks Square Arts Center reserves the right to photograph
exhibited work and use these or the artists digital images for
reproduction in both printed and electronic materials for publicity.
• Entry free must be paid at the time of application submission
Tom Coleman is considered to be one of the greatest potters in
America. His relevance to the field of ceramics can be confirmed by the
many artists whom his work has inspired. A graduate of the Northwest
College of Art and a resident of Nevada since 1987, Tom continues to
grow as an artist and shares his discoveries and enthusiasm through
numerous workshops, years of university teaching experience and as a NCECA presenter. For
over fifty years, Tom Coleman has been developing his craft as a
hand-built potter working with both porcelain and stoneware, each
equally refined and well-balanced. His work and lectures have gained him
numerous awards and notoriety in the field of ceramics. Tom Coleman's
work is featured in a number of different galleries and has been
included in numerous exhibits throughout the United States. He has
written much on the subject of ceramics and has himself been the subject
of much published review.
Tom Coleman Workshop –
Working with Porcelain
Tom will be demonstrating his techniques for throwing porcelain, both
functional, thrown and altered pieces. There will also be an on going
discussion on glazing, firing and alternative decorative processes.
April 22 and 23
10:00 to 4:00
$40 per person/per day
Class size limited
Contact details:
River Oaks Square Arts Center
1330 Second St.
ab@riveroaksartscenter.com
www.riveroaksartscenter.com
Phone: 318-473-2670