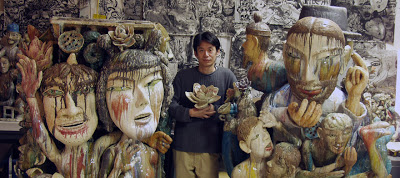 SunKoo Yuh: Studio Shot
Ceramic Arts Workshop
July 2 – 11, 2012Our 2012 Summer Work Intensive is the third such workshop hosted by the Ceramic Arts Program at CSULB. The Work Intensive Program began with the belief that students need diversity in studio-based experiences in order to grow artistically. Every other summer for the past five years, we have invited as many interesting and talented artists working in clay as we could find to come and work alongside our students, as well as other invited guest students, for two unforgettable weeks of hard work, community building, and exchange of ideas.
This summer will be more focused and based on an artistic theme:
Figuration.
. This is a unique one-time workshop opportunity to work alongside nine superb artists: Tip Toland, Matt Wedel, SunKoo Yuh, Beth Cavener Stichter, Myungjin Kim, Gerit Grimm, Cristina Cordova, Chris Miles and TaeHoon Kim. These artists engage figuration from very diverse perspectives and have been invited to join our students for 10 days this summer in an atmosphere intended to simultaneously sharpen a focus and broaden a range of ideas and possibilities.
Our nine featured artists will present studio demonstrations and lectures on their work. Each day of the workshop will focus on one artist, and will conclude with a well designed "home-cooked" communal meal. On the final day of the workshop, all are invited to the Long Beach Museum of Art to join the artists in a discussion moderated by Chris Miles.
For the first time ever, we are extending an open call for artists and students to apply for approximately twenty-five open workshop slots. Selection will be based upon review of portfolio and statement of intent. Our goal is to bring together a group of highly committed and motivated students of the ceramic arts for a ten-day experience that truly defines the words "work intensive."
Workspace, materials, and technical assistance with be offered along with planned and impromptu instruction by the guest artists. Studio access is 24/7; firing available upon request. Limited opportunities for tuition reduction are available. Interested parties can learn more on the
Application page.
Application Deadline: May 15, 2012