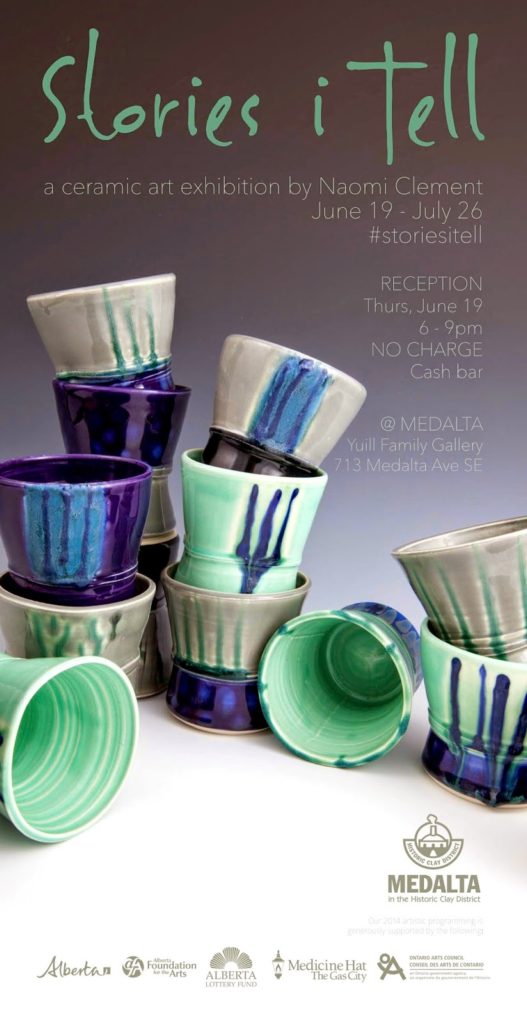 Stories I Tell
An exhibit of new ceramic work by Naomi Clement in Medalta's Yuill Family Gallery
713 Medalta Ave SE, Medicine Hat, AB
Opening reception with the artist June 19, 6 – 9pm
Show runs through to July 26, 2014
Stories I Tell is an exhibit of new
work created by Naomi Clement during her tenure as a long-term artist in
residence at Medalta's International Artist in Residence Program in Medicine
Hat, Alberta.
As a dedicated functional potter, Naomi views functional work as a
powerful lens through which to engage with others on an intimate level and
explore ideas of home, personal space, and identity. Naomi strives to create beautiful,
useful objects that will bring joy to people's daily lives, and go on to forge
connections and stories of their own. Ultimately, her goal is that her pots
will introduce a little beauty into the world, ideally creating a space where
the user can pause to savour a moment of calm in the midst of a busy day.
As such, a key part of the show is a collection of 40 cups that will be
given away, free of charge to members of the public throughout the exhibit,
with the goal of demonstrating how the use of handmade objects can enrich ones
daily life. In exchange for the cup, the recipient will be asked to send a
postcard to the artist with a short story or reflection on using the cup.
For more information, contact the artist: naomi@naomiclement.com