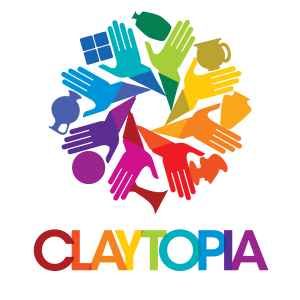 PROPOSE A PRESENTATION FOR CLAYTOPIA, NCECA 2019
Claytopia, NCECA's 53rd Annual conference takes place in Minneapolis, Minnesota
March 27-30, 2019. Several calls are now open. Proposals for Projects Space; Lectures, Panels, and Discussions; and Demonstrating Artists share a deadline of May 16, 2018 (11:59 pm EDT). Visit https://nceca.net/nceca-calls-and-exhibitions/ to see the full annual cycle of exhibition, conference programming, and opportunity calls for 2018-2019.
2019 NCECA ANNUAL EXHIBITION
ENTRY DEADLINE: Wednesday, June 20, 2018 (11:59 pm MDT)
The Form Will Find Its Way: Contemporary Ceramic Sculptural Abstraction, curated by Elizabeth Carpenter, will be hosted by the Katherine E. Nash Gallery within the Department of Art at the University of Minnesota. The exhibition will run from January 22 – March 30, 2019. Invited artists include Nicole Cherubini, Alexandra Engelfriet, Jessica Jackson Hutchins, Brie Ruais, and Anders Ruhwald. NCECA encourages artists working with clay as a primary medium of expression to consider entering this exciting exhibition. Visit https://nceca.net/2019-nceca-annual/ to learn more about submission eligibility, procedures, and requirements.
The NCECA Annual blends impactful attributes of invitational and open juried models of exhibition development. The vision of a single curator generates an organizing concept for the exhibition and invites five leading artists in the field whose work serves to build out and expand on the exhibition's conceptual framework. The curator then makes selections of additional works and artists for the exhibition through an open call for submissions.
Elizabeth Carpenter is an independent curator, writer, and educator. As curator of visual arts at the Walker Art Center from 2001-2015, some of her exhibition highlights included Frida Kahlo (2007); Robert Irwin: Slant/Light/Volume (2009); Hélio Oiticica / Rirkrit Tiravanija: Contact (2010); Absentee Landlord (2011), curated with filmmaker John Waters; Frank Gaard: Poison & Candy (2012); and Dance Works III: Merce Cunningham / Rei Kawakubo (2012). Prior to her role at the Walker, Carpenter served on the curatorial team responsible for the Solomon R. Guggenheim Museum exhibition, Robert Rauschenberg: A Retrospective (1997). In 2001, as guest curator in the Department of Prints and Drawings, she curated Jim Dine Prints: 1985 – 2000 at the Minneapolis Institute of Arts for which she also wrote and edited a catalogue raisonné of Dine's graphic work. Carpenter's writing has appeared in numerous exhibition catalogues and Art in Print.
Currently a lecturer in the Department of Art at the University of Minnesota where she teaches art history and theory, Carpenter holds a BA in English from the University of Wisconsin – Madison, MA in Art History from the University of Minnesota, and M.Phil. in Art History from the City University of New York Graduate Center (CUNY).
Carpenter shares…
With The Form Will Find Its Way: Contemporary Ceramic Sculptural Abstraction, I will be exploring experimental, cross-disciplinary, and aesthetically diverse artistic practices, with the explicit intention to avoid preconceptions about established categories like art and craft. My interest in ceramics launches from the modernist sculptural tradition. The works that I hope to select for the exhibition will tend toward a sculptural exploration of abstraction rather than traditional or functional ceramic objects and vessels.I am seeking to include artists who work in an interdisciplinary mode, not only in order to tap into ambiguity, disorder, entropy, and the uncanny, but also to challenge the plinth and the pedestal while embracing the possibilities of alternative installation strategies, and/or time-based media. Within the rubric of sculptural abstraction, I am especially interested in phenomenology—i.e., the tension and scale of objects in space; the impact of perception and bodily movement on the part of the artist while creating and the spectator while experiencing art; and performative strategies, processes, and outcomes.

There is no aim at being comprehensive—my selection of artists will be a sampling of current practices, and represents an attempt at a sustained consideration of one crossover tendency within the worlds of ceramics and contemporary art.