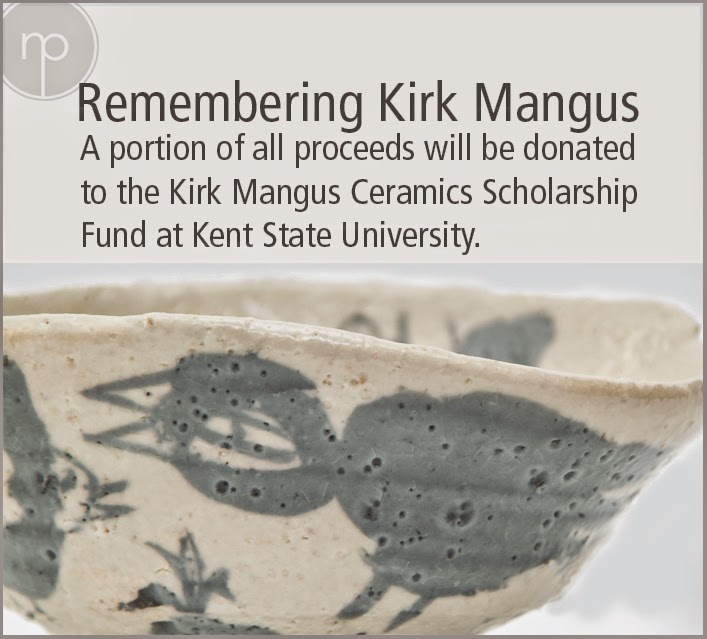 The
Nevica Project would like to take this opportunity to feature some of
the beautiful work made by artist Kirk Mangus. Kirk was a leader and
mentor in the field of ceramics, serving as head of the ceramics program
at the Kent State University School of Art from 1985 until his death in
2013. Collected nationally and internationally, he was the recipient of
two National Endowment for the Arts grants, four Ohio Arts Council
fellowships, a Pennsylvania Council on the Arts fellowship, and a
McKnight fellowship residency at the Northern Clay Center in
Minneapolis.
We would like to give a special thanks to Eva Kwong, his widow, that helped make this exhibition possible. A portion of all the
proceeds will be donated to the Kirk Mangus Ceramics Scholarship Fund at
Kent State University. If you would like to make a donation, please do
so by sending a check to: Eva Kwong c/o School of Art, Kent State
Univ., 400 Janik Dr., Kent,OH. 44242. It is a 501c3 account- all
donations are fully tax-deductible for the donor and it would benefit so
many students..
http://www.thenevicaproject.com/remembering-kirk-mangus/
© The Nevica Project 2014
tel 1.406.360.0164
3717 N. Ravenswood Unit 115W | Chicago, Il 60613