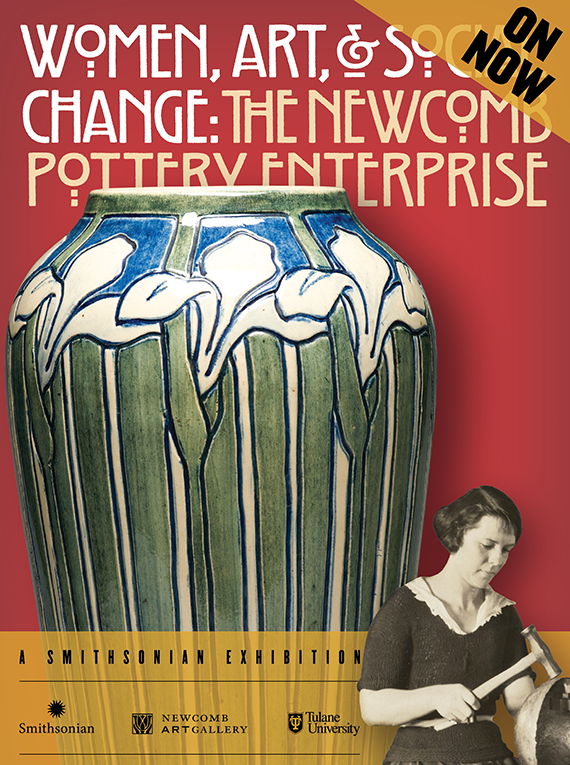 The Gardiner Museum presents the Smithsonian exhibition Women, Art, & Social Change: The Newcomb Pottery Enterprise opening February 5 and running through May 18, 2015, in the George R. Gardiner Exhibition Gallery.
The show tells the
inspirational story of a group of women in the Deep South who achieved
economic independence through making and selling pottery, and by
establishing Newcomb Pottery, one of the most iconic arts and crafts
brands of the late 19th and early 20th centuries.
Set against a backdrop of
social change and women's rights, the Smithsonian exhibition features
the largest, most comprehensive collection of Newcomb Pottery to tour
North America in three decades, with more than 125 objects of the iconic
pottery on display, along with lesser known textiles, metalwork,
jewellery, bookbinding and historical artifiacts.
"The exhibition brings together a variety of objects created during the lifespan of the Newcomb enterprise," says Sally Main, curator of the exhibition.
"The finest examples of the pottery art form will be displayed
alongside pieces that will come as a revelation to many – not only a
rich variety of crafts but also photos and artifacts that breathe life
into the Newcomb legacy."
"We are thrilled to be presenting this exhibition by one of the world's leading cultural institutions," says Kelvin Browne, Executive Director and CEO of the Gardiner Museum.
"Not only is this a show of beautiful objects, but it has an
extraordinary behind-the-scenes story with an added layer about women's
rights and social change in post-Civil War New Orleans. These themes and
Southern backdrop make these women's stories more powerful – they were
arts and crafts pioneers who paved the way for entrepreneurial women of
today."
Newcomb Pottery was
established in 1895 as an educational experiment of H. Sophie Newcomb
Memorial College, Tulane University's former women's college. The
quasi-commercial venture offered an opportunity for Southern women to
support themselves financially during and after their training as
artists. Inspired by the flora and fauna of the Gulf South, the pieces
offer insight into the extraordinary women who made a lasting impression
on American art and industry.