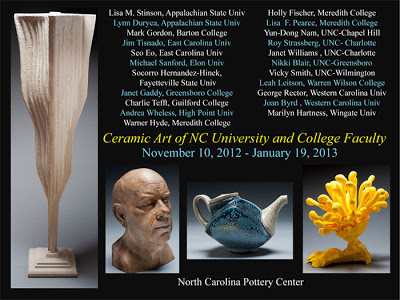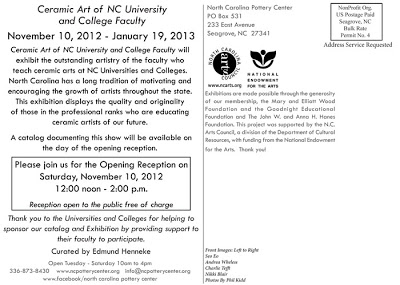 The
public is cordially invited to attend the opening reception of the
upcoming Exhibition: "Ceramic Art of North Carolina University and
College Faculty," at the North Carolina Pottery Center. The reception
will be held on Saturday, November 10, 2012, between 12:00 noon and 2:00
p.m., at the Center on 233 East Avenue in Seagrove , NC . The
Exhibition will continue through January 19, 2013. An illustrated
catalog documenting the work will accompany the show and will be
available for sale.
The
Exhibition showcases the high quality and rich diverseness of clay art
created by faculty who are instructors of ceramics at universities and
colleges throughout North Carolina . At the same time, it gives
evidence of the experience available to college students in North
Carolina 's Universities and Colleges and aptly reflects the spirit of
design and the faculty's commitment to North Carolina 's ceramic
education.
Featured
faculty in the exhibit are; Lynn Duryea, Lisa M. Stinson, and Roy St ra
ssberg of Appalachian State University, Mark Gordon of Barton College,
Seo Eo and Jim Tisnado of East Carolina University, Michael Sanford of
Elon College, Socorro Hernandez of Fayetteville State University, Janet
Gaddy of Greensboro College, Charles Tefft of Guilford College, Andrea
Wheless of High Point University, Holly Fischer, Warner Hyde, and Lisa
F. Pearce of Meredith College, Yun-Dong Nam of the University of North
Carolina at Chapel Hill, Janet Williams of the University of North
Carolina at Charlotte, Nikki Blair of the University of North Carolina
at Greensboro, Vicky Smith of the University of North Carolina at
Wilmington, Leah Leitson of Warren Wilson College, Joan Byrd and George
Rector of Western Carolina University, and Marilyn Hartness of Wingate
University.
Also on Saturday, November 10th, the Center is opening its doors and grounds for the education and benefit of the public with 5th
generation Seagrove potter Chad Brown of the Chriscoe family, firing
the groundhog kiln on the pottery center lawn. The firing of the
groundhog kiln takes approximately 15 hours and uses 2 cords of wood.
The public is welcome to come out to view the firing and see how the
process was done over 200 years ago and still continues today.