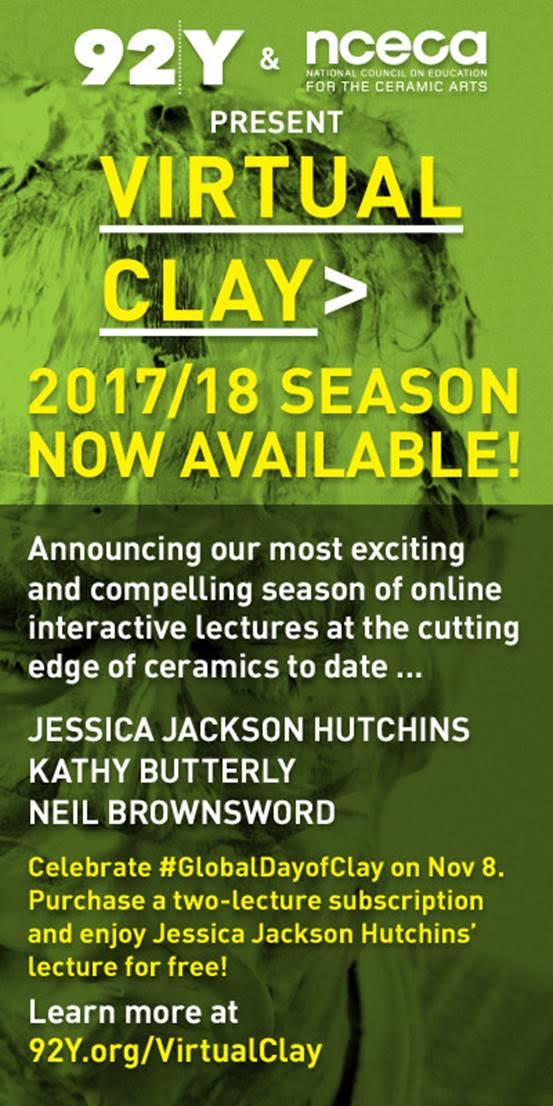 Virtual Clay and NCECA announce our most exciting and compelling online lecture season to date. Featured presenters for the 2017-2018 season include Jessica Jackson Hutchins, Kathy Butterly and Neil Brownsword.
Virtual Clay is a series real-time online classes that gather a vibrant community of artists, designers and art historians to speak with you about important topics in ceramics. These online conversations are meant to challenge preconceptions and explore new territory, inspiring you to think about the world in fresh and different ways.
To celebrate #GlobalDayofClay on November 8, 92Y is offering Jessica Jackson Hutchins' lecture free! Space is limited, so patrons purchasing a two-lecture subscription for $50 will be given priority access. After October 15, if space is available, Hutchins' lecture will be available free of charge on a first come, first served basis.
Enjoy the new season of OnDemand lectures from the comfort of your home, studio or classroom, at the incredibly affordable price of $15 each. Browse the OnDemand archives for past Virtual Clay lectures here.
Tickets must be purchased by noon of the day of the event.
Please Note: All times are Eastern Standard. An email with login instructions will be sent to all participants prior to the event.
www.92y.org/tickets/uptown/subscription/virtual-clay-3-pack.aspx