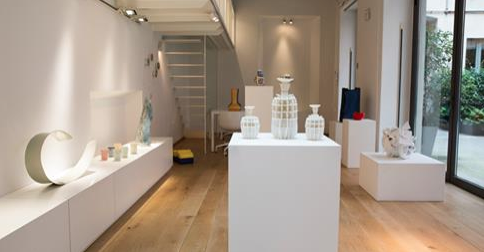 OPEN TO ART

International Art and Design Ceramics Competition

Created and promoted by Officine Saffi, Open to Art
confirms its status as a tool for enhancing and promoting the use of
ceramics in contemporary art, design and furnishing. The competition
also represents an opportunity for reflecting on the latest developments
in visual design and technology.
Open to Art is a competition open to artists of any age, without any limits on subject matter, and with the only requirement that ceramic has to be the principal material used in the work. There are two sections in which artists can take part: Art Ceramics, and Design Ceramics. The complete competition rules can be downloaded from the website www.officinesaffi.com. Applications are accepted up until 30 June 2016.
The Jury
An international jury will assess the works submitted, according to criteria of quality, research, originality and contemporaneity. The jurors are:
Laura Borghi, creator and promoter of the prize, Officine Saffi, Milan
Aileesh Carew, Project Director of the National Craft Gallery, Ireland
Carlotta de Bevilacqua, vice-president of Artemide and President of Danese Milano
Paolo Dell'Elce, designer
Flaminio Gualdoni, art critic and historian, editor of the magazine La Ceramica in Italia e nel Mondo
Franco Marrocco, Director of the Brera Fine Arts Academy
Shozo Michikawa, artist
Museo del Design 1880-1980, Milan
Kristina Riska, designer and artist
Prizes
For the winners, the prize money available is 10,000 euro, shared between two first prizes, one for the Art category and one for the Design category, so that each has a value of 5,000 euro.
As well as the first prizes in the two categories, there are 5 additional prizes, two of which comprise artists' residencies, one in Japan during the International Ceramic Art Festival, Sasama, and one in Finland.
The Museo del Design 1880-1980, Milano will offer to a selected artist the Solo Show Prize, a solo exhibition in the museum spaces. A special Production Prize will be offered by FABLAB Milano. As in the previous edition, Open to Art dedicates particular attention to young artists, by means of an Under 30 Prize with support from the Brera Fine Arts Academy, which will select a work by a young artist to be exhibited at the Academy.
Finalist's Exhibition
All the finalist works in Open to Art will be presented in a special exhibition that will open in January 2017 at Officine Saffi in Milan. The winners will be announced at the exhibition inauguration.
OFFICINE SAFFI
Officine Saffi, an organization based in Milan, is an experimental hub dedicated to contemporary ceramics.
Its audience comprises artists, designers, architects, ceramists and
everyone interested in ceramics and art. The project consists of the Art gallery, for exhibitions with works by international artists, the Workshop for courses, also used for artists' residencies and production by artists and designers, and the Publishing Company that produces art catalogues and the quarterly magazine La Ceramica in Italia e nel mondo (www.laceramicainitalia.com).
Part of Officine Saffi's mission is the Open to Art International Competition,
dedicated to Art Ceramics and Design Ceramics. Through its operations,
Officine Saffi represents a point of reference for international
ceramics, with a mission to enhancing the significance of ceramics in
the areas of art, design and architecture.
Useful information:
Competition: Open to Art, International Art and Design Ceramics Competition
Applications can be submitted from 31 March 2016
Deadline: 30 June 2016
Prize-giving and exhibition inauguration: January 2017
Location: Officine Saffi Ceramic Arts Gallery, Via Aurelio Saffi 7 – Milan.
Tel: +39 02 36 68 56 96
E-mail: concorso@officinesaffi.com
Info: www.officinesaffi.com