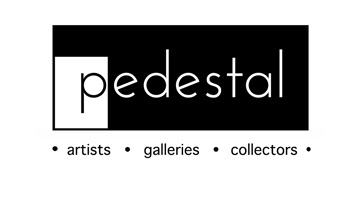 Pedestal
is an online meeting place for Artists, Galleries, and Collectors. We
are interested in creating a collective, high standard of Fine Craft and
Fine Art. Pedestal is a team of professionals that bring in three
different views concerning Art, Education, and Business. Bringing these
worlds together is not innovative or new, however it is an idea that we
support and want to be an integral part in developing.
Pedestal's
mission is to 'connect Art to the World through technology.' As an
Artist it is my job to create strength in the importance of these
connections and standards in Art. Innovate and create, Pedestal seeks
to support artists and their visions by capturing a Studio Artist's
career and ideas. Pedestal is a platform for Artists to use as an
exhibition space, we seek to maintain integrity as this platform by
inviting quality professional Artists.
As
a Communications and Residency Coordinator at the Red Lodge Clay Center
I am involved in Education, Studio, and Business in Art, and being a
studio artist I am consistently trying to succeed and challenge my
career. I know first hand the struggles of handling a job you love, a
studio practice, and a self-proprietorship. Pedestal is designed to
help, we are an active agent working for the studio artist through
marketing…so while you are making and thinking in the studio, let
Pedestal do your business!
Please check out mypedestal.com to submit and begin your active artist page!