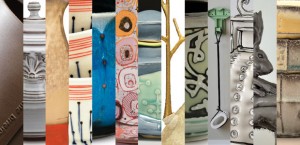 via Ceramic Arts Daily:
After several rounds of narrowing down, revisiting, heated debate, and in-depth discussion, even fisticuffs, the editors of Ceramics Monthly chose thirteen deserving artists for the 2013 Emerging Artists issue.
All of these talented artists have been pursuing a career in studio
ceramics for ten years or less, and their work stands at the forefront
of what is to come in our field.
Now it's your turn to have a say by casting your vote in the "Emerging Artist People's Choice Contest," graciously sponsored by BigCeramicStore.com! The winner will receive a $500 gift certificate to be used at www.bigceramicstore.com.
So check out the artists and their work below and cast your vote (voting opens May 1, 2013) through the buttons below (or on the individual artists' pages)!
IMPORTANT DATES
Voting Opens: Wednesday, May 1, 2013
Voting Closes: Wednesday, May 22, 2013
Winner Announced: Wednesday, May 29, 2013.
Vote for your favorite Emerging Artist here!
Emerging Artists 2013
Click images to enlarge!

Tom Jaszczak
Helena, Montana
Mechelen, Belgium
Grand Rapids, Michigan
Acworth, Georgia
Helena, Montana
Bakersville, North Carolina
Kansas City, Missouri
Helena, Montana
London, England
Helena, Montana
Louisville, Kentucky
Hancock, Michigan
Louisville, Kentucky