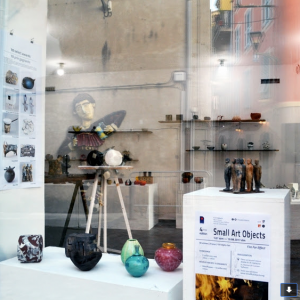 Located in the heart of the old town of Vallauris, France, the non-profit association A.I.R. Vallauris (Artists in Residence) welcomes international artists from all horizons to meet and collaborate with local artists and to research and create and exhibit new work in an artistic laboratory created specifically for them. The Association was created in October 2001 and has since hosted over 250 artists of more than 30 nationalities. In addition, artistic events are organized, including «Small Art Objects», from July 1 to September 24, 2017.
Small Art Objects is a fund raising undertaking sponsored by A.I.R. Vallauris and consists of a competition, involving the creation of small art objects, their exhibition and sale. A call for entries is communicated to solicit artist participation from all over the world. Small art objects can be made from any material, but are restricted in size to 15 cm x 15 cm x 15 x cm. Creations must also be consistent with the theme determined for the undertaking. Timing for this exercise is co-incident with the Fete Picasso, a popular celebration that takes place annually in Vallauris in honour of its most famous artist in residence. From 1946 and for 10 years, Picasso discovered ceramics with a passion in Vallauris.
Exhibition
The theme for the fourth edition of Small Art Objects is «Fire for effect», and takes place in Vallauris from July 1 to September 24, 2017. During the Picasso festival, on July 15, ten artists were awarded prizes by an international jury of Art specialists. More than one hundred creations by artists from twenty countries were first exhibited in the Atelier A.I.R. Vallauris located at 21 avenue de Cannes. For the Act II of this event, the pieces are currently exhibited at the «Café de France» Gallery, 1 avenue de Cannes in Vallauris.
Online exhibition and auction
The website
www.SmallArtObjects.org
has been created specifically for this event. All Small Art Objects are for sale by means of an
auction until September 24 at 10 pm Paris time (GMT + 1). All purchased works can be shipped internationally after the event.
Catalogue
Published through A.I.R. Vallauris Press, this catalogue presents the 121 Small Art Objects submitted for the event with photographs
and material descriptions. Biographies of the artists from 20 countries are also included. The book is 108 pages and written in both
English and French. It can be purchased in the Gallery Aqui Siam Ben and also ordered online from the Small Art Objects website.