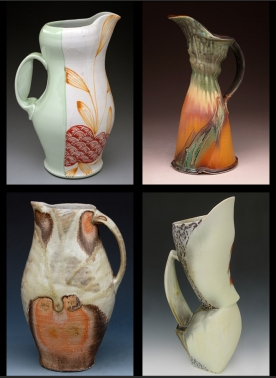 Pitchers
Functional Form / Sculptural Presence
Pre-NCECA Workshop
Monday and Tuesday, March 14 – 15, 2016
Pitchers
. . . an eminently functional form that potters have made through the
centuries. In addition to defining its function, the spout and handle
animate a pitcher to give it sculptural presence. In this workshop, four
prominent potters will demonstrate their unique aesthetic and technical
approach to this timeless form.
Join
323CLAY's Steven Hill and his three talented guest artists at this
special Pre-NCECA Workshop. This Workshop will include demonstrations,
discussions, slides and a question and answer session.