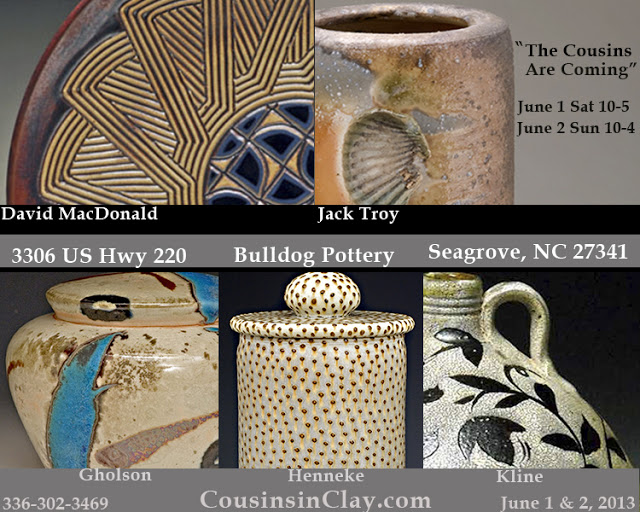 "Cousins in Clay" at Bulldog Pottery in Seagrove, North Carolina
Contemporary Pottery Show and Sale
June 1-2, 2013
Meet the Potters
David MacDonald
Jack Troy
Bruce Gholson
Samantha Henneke
Michael Kline
June 1 – Saturday 10:00am – 5:00pm
music by Chronis Pou Vasilou during the day
at 3:00pm demo by Michael Kline and Bruce Gholson
June 2 – Sunday 10:00am – 4:00pm
Potters Potluck at noon – All are welcome
music by Will McCanless
at 1:30pm Jack Troy presents selections of his poetry
Seagrove, NC 27341
3306 US Hwy 220 Alt.
5 miles south of Seagrove traffic light – Look for the Blue Watertower
336-302-3469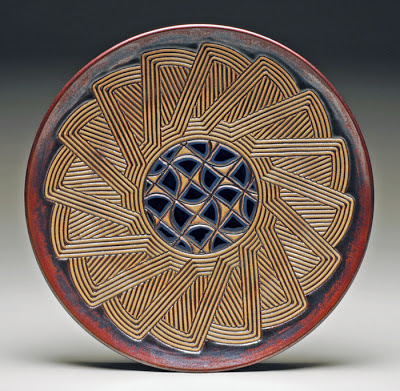 David MacDonald
David MacDonald is
an emeritus professor from Syracuse University and lives in Syracuse,
New York. MacDonald received the Excellence in Teaching Award from the
National Council on Education for the Ceramic Arts (NCECA) in 2011.
"For
more than four decades, David MacDonald has masterfully created richly
patterned utilitarian objects from clay that have come to symbolize
tremendous integrity and endurance. Despite the national recognition
MacDonald has earned for his superb work, he remains committed to, and
most content when he is producing, functional works of art in beautiful
forms that will be touched, held, and most importantly used by people
who will admire and appreciate their inherent beauty."
— Everson Museum of Art, 2011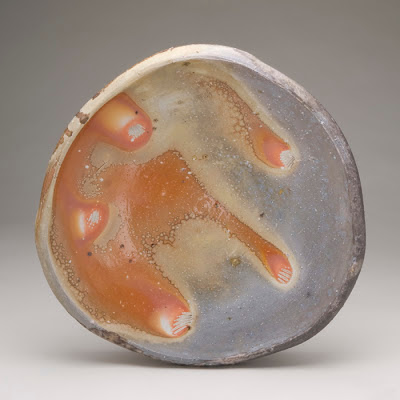 Jack Troy is
an emeritus professor from Juniata College and lives in Huntingdon,
Pennsylvania. Troy received the Excellence in Teaching Award from the
National Council on Education for the Ceramic Arts (NCECA) in 2012.
He
began teaching young artists in 1967 at Juniata College, has taught
over 185 workshops, written 2 books about clay, a book of original poems
titled "Calling the Planet Home", published over 60 articles and book
reviews, all while producing a constant stream of pottery at his
Pennsylvania studio. Jack Troy gives homage to our state of North
Carolina in his Wood-fired Stoneware and Porcelain book (1995), "If
North America has a pottery state it must be North Carolina".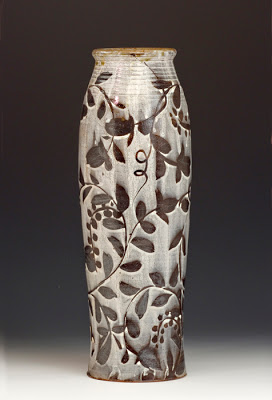 Michael Kline
Michael Kline,
a studio potter from Bakersville, in the mountains of North Carolina.
He creates inspired traditional forms that are graced with his elegant
floral brushwork giving a botanical theme to his wood-fired pottery jugs
and jar forms. Sometimes his pots are covered with a honey amber color
glaze that is as appetizing as maple syrup. His work has been
published in many books and magazines and he has written several
articles for the Studio Potter, and writes regularly for his blog
Sawdust and Dirt.
Michael Kline will be presenting a demonstration along with Bruce Gholson on Saturday afternoon at 3:00 pm.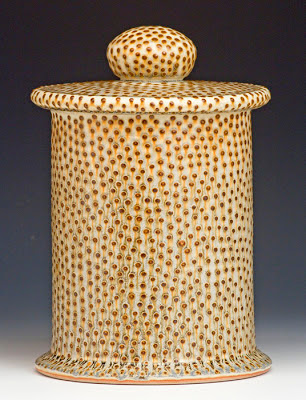 Samantha Henneke,
the host of "Cousins in Clay"in Seagrove, lives and operates Bulldog
Pottery along with her husband Bruce in Seagrove, North Carolina. She
wants her functional work to be both beautiful and comfortable to
use. She likes to decorate her pottery with a simple swirl and at other
times the form becomes a canvas for a dotted effect which can show how
tight patterning can affect ones vision, creating an op-art effect of
movement and vibration. She is fascinated with macro photography and
exploring her garden in the summer time while collecting images of
insects in their environments. She utilizes this activity to capture
stories among the foliage, to create colorful insect compositions on her
porcelain canvases, forming a snapshot in time and imagination.
Bruce Gholson,
the host of "Cousins in Clay" in Seagrove, NC, lives and operates
Bulldog Pottery along with his wife Samantha in Seagrove, North
Carolina. He has been fascinated with fossils, fish, reptiles and
insects since childhood. Recent interests have included fossilization in
amber, Chinese scholar stones, and arrowheads from the region.
Researching the chemistry of other arts such as fabric dyes, analog
photography, and pyrotechnics provides him with inspiration in the form
of comparative formula based cabalistic ceramic mediation. These
interests blend into an esoteric mix that is hopefully evident in the
overall feeling and imagery found in his work. Success is of course a
matter of perception and opinion, but for Bruce having the goal aids in
facilitating an aspect his journey- "Making pots in my own voice".
Bulldog Pottery
Bruce Gholson and Samantha Henneke
3306 US Hwy 220 Alt North
Seagrove, NC 27341
910-428-9728
B's cell 336-302-3469
S's cell 336-302-4452