pppots: a tumbler site of random ceramic eye candy by Ben Fiess.
Enjoy it
here
.
*Warning some NSFW Ghost references.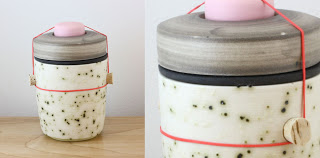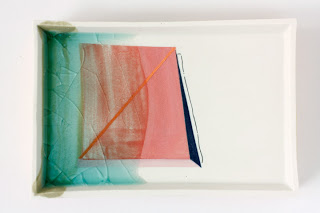 And when your done there make sure to head over to Ben' website
for some stunning work and ceramic process.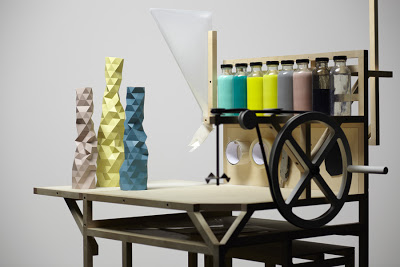 These aren't clay, but still an amazing process.
Many thanks to Vipoo Srivilasa for sharing this.
FACETURE from Phil Cuttance on Vimeo.
The FACETURE series consists of handmade faceted vessels, light-shades and table. Each object is produced individually by casting a water-based resin into a simple handmade mould. The mould is then manually manipulated to create the each object's form before each casting, making every piece utterly unique. The FACETURE process First the mould of the object is hand-made by scoring and cutting a sheet of 0.5mm plastic sheet. This sheet is then folded, cut and taped into the overall shape of the product that is to be cast. The mould's final shape, and strength, is dictated by which triangular facets I pop in and out. I do this each time I ready the mould for the next object, meaning that no two castings are the same. I then mix a water-based casting resin that is cast in the mould where it sets solid. The resin is poured into the hollow mould and rolled around to coat and encase the sides, controlled by me on the casting jig on the machine. The material soon sets creating a hollow solid object. Then another, different coloured measure of resin is poured into the same mould, and swirled around inside, over the first. When it has set, the mould is removed to reveal the solid set cast piece. The casting appears with sharp accurate lines and a digital quality to its aesthetic, a visual 'surprise' considering the 'lo-fi', hand-made process from which it came. The mould is then cleaned and ready for re-use. Each vase is handmade, unique, and numbered on the base. Available in two sizes; tall – 45 x 12 cm approx. small – 34 x 8 cm approx Standard colours – Charcoal, blue, yellow, pink, white. Custom colours available. email mail@philcuttance.com to for pricing and to order. Images by Petr Krejci & Phil Cuttance The FACETURE project was created with the support of Creative New Zealand.

www.philcuttance.com