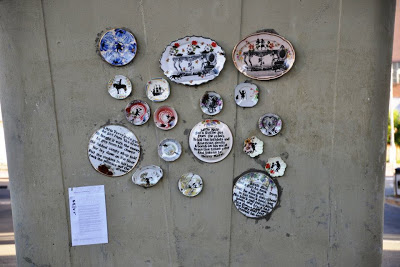 Leading up to December 18, designated "International Migrants Day" by the United Nations, Immigrant Movement International is mobilizing artists, immigrants, activists, and interested members of the public across the globe to develop projects related to the issues and experience of migration.
Following Text by Julie Lovelace via Facebook:
Sunday December 18, 2011. Global action "International Migrants Day" Street Art done in response Immigrant Movement International (IM International), an ongoing project initiated by artist Tania Bruguera and co-presented by Creative Time and the Queens Museum of Art, today announced an open call for submissions for actions that will take place on December 18, 2011, designated "International Migrants Day" by the United Nations. The organizers call on artists, immigrants, activists, and interested members of the public to stage an action on December 18, 2011 at 2pm local time in recognition of the concept of transnational migrants as a "global class" united across continents and cultures by common political and social conditions, as well as by the human experience of being a migrant. By engaging participants across the globe in a UN-endorsed project, the organizers hope to promote understanding of the specificity of local migration issues and the political interconnectedness across nations and regions that migration engenders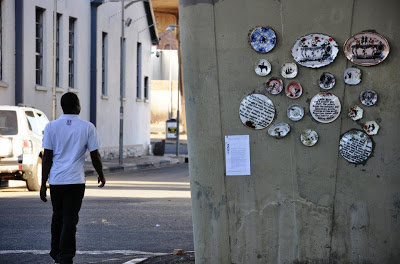 Below is a description of the work presented in the images (images via facebook) from the website for the International Migrants Day which can be found here.
Unsanctioned public art intervention in Johannesburg (Central Business District), South Africa.

The intervention consists of ceramic sculptures placed in an urban liminal space, under a bridge. The very nature of a bridge permits its symbolic use: it is a structure that joins two otherwise separate pieces of land, yet at the same time enhances their separateness. One can travel across a bridge, but while on it the traveller is neither in one place nor the other, thus a bridge is a quintessentially liminal object. In Johannesburg many displaced, migrant and homeless people live under bridges they survive without electricity and water it is their 'home'. I will populate the space with objects that reflect my own liminal migrant cultural hybridity in a post-colonial urban society. I use the notion of cultural hybridity as presented in Homi Bhabha's (1994) theory of hybridity and the third space. Bhabha contends that a new hybrid identity emerges from the mutual intermingling of two cultures; that a "third language" evolves that is neither the one nor the other. With regards to the definition as I have used it here, the third space enables other positions to emerge, positions which are both inclusionary and multifaceted. Finally I will record my own unsanctioned public art intervention which re-purposes the space of the urban environment to engage with the urban dweller in a playful way; highlighting the consequences of the mufti faceted nature of liminal migrant hybridity. I will compile and present photographic documentation of the sculptures in situ and the ephemeral life span of these objects.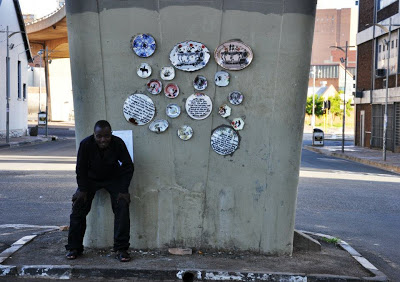 Corner of Fox Street and Ferrea, Johannesburg
Tania Bruguera, 2011. Material can be downloaded and shared with others as long as the authorship is credited and there is a link back to the website of the author. This material cannot be altered in any way or used for commercial purpose.
Visit Tania Bruguera's website here.