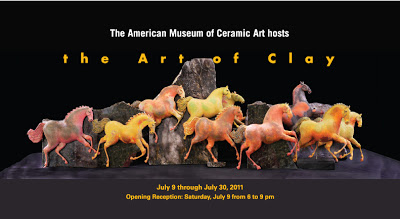 AMOCA presents The Art of Clay, a community exhibition and fundraiser from July 9 through July 30, 2011. The museum will hold the opening reception on Saturday, July 9, 2011 from 6 – 9 p.m. in conjunction with the Second Saturday art walk in the Pomona Art Colony. American Ceramic Society – Design Chapter of Southern California is a non-profit organization of over 300 potters, sculptors, teachers, students and ceramic designers who seek to share and increase their knowledge and expand public awareness and appreciation of the many facets of clay. ACS-DC was established in 1945 and many of its members are regional, national, and international artists. The Art of Clay, hosted by the American Museum of Ceramic Art, is a biennial invitational and juried exhibition open only to those artists who have recognized memberships in a clay group in California and Nevada. As a fundraiser, all works of art are for sale and will benefit AMOCA, the ACS-DC organization, and the artists. Special guest artist, Stefani Gruenberg will exhibit her ceramic sculptures; and this year's judge will be ceramicist Vincent Suez, presenting awards on the following categories: Best Sculptural, Best Whimsical, Best Utilitarian, Best Porcelain, Best Stoneware, Best Earthenware, Best Alternative Firing (raku, smoke, pit fire) and Honorable Mention.
Visit "The Art of Clay" at the American Museum of Ceramic Art
Here's a few pics of the work of Teri Hannigan who alerted me to the show.
For more about Teri Hannigan see what's new at www.clayhalo.com