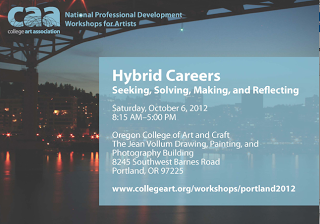 Presents a Professional-Development Workshop for
 Artists at Oregon College of Art and Craft
Portland,
OR, August 21, 2012—The College Art Association (CAA), in partnership
with Oregon College of Art and Craft (OCAC), will present its next
National Professional-Development Workshop for Artists on Saturday,
October 6, 2012. The one-day event, called "Hybrid Careers," will
explore in separate sessions the four steps of the creative endeavor:
"Seeking," "Solving," "Making," and "Reflecting."
"Hybrid
Careers" will take place on Saturday, October 6, from 8:15 AM to 12:00
NOON and again from 1:00 to 4:00 PM. There will be a lunch break from
12:00 PM to 1:00 PM, and an open-studio reception for all participants
for networking and sharing from 4:00 to 5:00 PM. The
sessions take place at the Jean Vollum Drawing, Painting, and
Photography Building on the OCAC campus at 8245 Southwest Barnes Road,
Portland, OR 97225. The workshop is $35. Each of the four sessions will
be presented once in the morning and once in the afternoon. Workshop
registrants must choose two sessions for the day.
The
workshop will begin at 8:15 AM with check-in and a complimentary
continental breakfast. The sessions start at 9:00 AM. "Seeking," led by
Katy Asher, an artist and alumna of Portland State University, and Carl
Diehl, an artist and an instructor at Pacific Northwest College of Art,
will focus on means of sparking and expanding on flickers of
inspiration. In "Solving," participants will actively engage in
determining theories or hypotheses of how to solve problems, guided by
Susanna Hohmann, a professor in OCAC's graduate program in applied craft
and design and a designer at Terrazign, and Carly Mick, also of
Terrazign. "Making," led by Jake Sorenson, a sculptor and OCAC alumnus,
and Brett Binford, co-owner of Mudsharks Studio, will explore the
process and evolution of the conceptual object. Finally, Kate
Bingaman-Burt, an artist, designer, and assistant professor at Portland
State University, and Jeremy Pelley of the Official Manufacturing
Company (OMFGCO) will lead "Reflecting," which will encourage
participants to reach a greater understanding of their likes and
dislikes. From this knowledge, they can then learn to focus on projects
that they can really believe in.
Please visit www.collegeart.org/workshops/portlandsessions to read full descriptions of all four sessions.
Registration
for the workshop is first-come, first-served. Because space is
extremely limited, registration must be completed in advance; it will
not be possible to register at the door. To pay by credit card, debit
card, or PayPal, go to www.collegeart.org/registerportlandworkshop.
Then contact Susan Schear at 973-482-1000 or susan.schear@artisin.com
and indicate which two sessions you would like to attend. If paying by
check, contact Susan Schear to affirm your registration and session
selection. Then make your check payable to College Art Association and
mail it to: Thomas Orr, Interim Dean, 8245 Southwest Barnes Road,
Portland, OR 97225. Please include your name, complete mailing address,
email, and phone number and also note "Hybrid Careers Workshop" on the
outside of the envelope.
If you have any questions, please
contact Susan Schear at 973-482-1000 or susan.schear@artisin.com and
include your name, mailing address, email, and telephone number in your
voicemail or email. For more information on the workshop, please visit www.collegeart.org/workshops/portland2012 or contact Susan Schear.
If you cannot attend the Portland event, CAA is hosting two more workshops this year:
Columbus, Ohio: Saturday, November 10, at the Columbus College of Art and Design
Santa Fe, New Mexico: Saturday, December 1, at the Santa Fe Art Institute (in partnership with the Georgia O'Keeffe Museum)
Please visit www.collegeart.org/workshops/national to learn more about these events.
CAA's
National Professional Development Workshops for Artists, which focus on
supporting visual artists in underserved areas, are sustained by a
generous grant from the Emily Hall Tremaine Foundation.
Workshop Partners
Oregon
College of Art and Craft is a creative community offering undergraduate
degrees and certificates, graduate degrees, and continuing education
classes for adults and children. Find out more at www.ocac.edu.
Additional
workshop partners are: Pacific Northwest College of Art; Official
Manufacturing Company (OMFG); Vizwerks; Marylhurst University; Mudsharks
Studios; and Terrazign.
As a leading professional organization
in the visual arts, the College Art Association serves the needs and
interests of 12,000 individual and 2,000 institutional members. Founded
in 1911, CAA publishes two scholarly journals in art history, an online
reviews journal for books and exhibitions, a weekly email newsletter,
and a website with news about the organization, its members, and the
larger art and academic worlds. CAA also hosts an Annual Conference for
4,000 to 6,000 artists, scholars, and students, provides career
services, and advocates the visual arts on a national level. Visit www.collegeart.org to join.