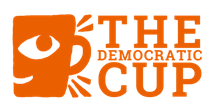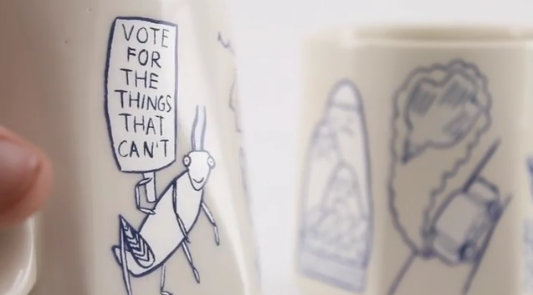 What Can Happen Over a Cup of Coffee?
The Democratic Cup is a political fundraiser that aims
to stimulate dialogue, energize individual voices, and raise money for
seven progressive causes. The cups have been collaboratively made by
ceramic artists and illustrators based in the US who want to counteract
the divisive and hateful rhetoric of this year's presidential election.
The Democratic Cup believes that these cups will act as agents of social
change by generating positive political discourse. On Tuesday,
September 20th, we'll launch the shop and open up for pre-sales of cups.
Our Mission
The mission of The Democratic Cup is twofold: raise money for
progressive nonprofit organizations and create a more genuine and
respectful dialogue in American political discourse. A democratic and
familiar object, the coffee cup, will act as a catalyst for social
change and true dialogue.
The Organizers
The Democratic Cup is the brain-child of Ayumi Horie in Maine and Nick Moen
in North Carolina. Makers with an interest in social practice, they
joined forces as a way to make a positive contribution to the political
dialogue in this year's presidential election. Ayumi has gathered
together 26 of the best ceramic artists and illustrators in the US to
collaborate on cups and Nick is heading up the fabrication team at his
new design production studio, The Bright Angle.
Social Engagement
The Socially Engaged Craft Collective will continue in the long tradition of conversations over coffee by using the cups in a series of public and private acts.
Special Thanks
Special thanks to Anna Metcalfe and Janine Grant for their research on this project and Laurie Harris for her photographs from The Bright Angle.
CONTEST:
What
A graphic illustration that speaks to progressive values and opens the door to conversation.
Technical
The drawing should be:
-one color
-at least 4″ high and a maximum width of 8″
-300 dpi, preferably larger
-the original art should be drawn to scale, no substitutions if you are chosen
How To Submit
Submissions will only be accepted through Instagram and Facebook.
Deadline: Tuesday, September 27, midnight EST
Voting
Voting continues until Tuesday, October 4th, midnight EST. You can vote
for multiple submissions, but not vote more than once per entry. You
need not submit to participate in voting.
Winners
Winners will be notified on October 5th. One top winner will be chosen
by popular vote and five with be chosen by The Democratic Cup.
Rules
Lewd or inflammatory images will be removed.