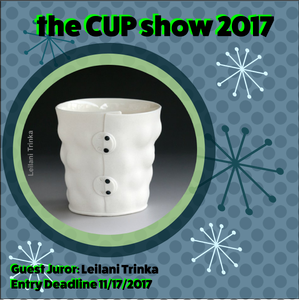 PROSPECTUS is the link below:
Fill out this form for PROSPECTUS
cut and paste version: https://www.formpl.us/form/4513520764846080
Las Vegas Nevada's Clay Arts Vegas is pleased to host "the CUP show 2018" an international juried art exhibition, January 4 2018- February 24 2018 in the Victor F. Keen Gallery, at Clay Arts Vegas in Las Vegas, Nevada. "the CUP show 2018" will feature functional and sculptural cups, tea bowls and mugs.
The cup maybe the most intimate of ceramic objects. We caress it in our hands, raise it to our delicate lips and imbibe the fluid of life. Be part of our annual juried show and have your cup seen in Las Vegas. Tall, small, tea bowl or handle each cup is a work of art created to entice the soul of the drinker.
Deadline: November 17, 2017. Participation is open to all artists 18 years of age or older. Work submitted must be original, must use clay as the primary material, must specify firing technique(s) and size, and must have been completed within the last 2 years. All cups must be functional and food safe
Jurors come from Clay Arts Vegas Staff with invited guest juror and featured artist Lelani Trinka
Peter Jakubowski (Clay Arts Vegas Gallery Supervisor, hand building instructor, Education Advisor and Design Expert) Peter comes to fine art and sculpture through an extensive theatre design back round having received his BA in theatre from SUNY Buffalo and an MFA in design from Temple University. Clay started as a medium for him to develop props and masks and has morphed into a wide variety of forms from functional to sculptural. His ceramic work has been seen in gallery shows in the south west and is in private collections around the globe. He focuses on an exploration of the natural beauty of clay. His work is often characterized by the use of oxided washes, raw clay and heavy organic textures.
He has extensive teaching experience having been a tenured professor of design and has over 25 years of experience as a professional lighting and scenic designer. His theatrical experience is seen in his work as he plays with the use of positive and negative space to create a sense of visual movement and theatricality in his pieces. He works in a variety of other art mediums and enjoys sculpture, lapidary, and silver-smithing. His initial love of clay developed from the study and collecting of traditional South East folk pottery.
Guest Juror and Featured Artist: Leilani Trinka is a ceramic artist, specializing in hand built objects with a functional approach. She works exclusively in porcelain. Her work is small in scale, highly detailed and meticulously handcrafted yet playful in character. The pieces work as part of a set or collections but every object is a unique, one of a kind entity.
Drawing her inspiration from both the natural and the manmade, Leilani is enthused by detail, pattern, texture, familiar forms and diminutive size. Through her work, she aspires to make a connection with the viewer and entice them to interact with the objects she makes; for the pieces to be held, examined and used.
Born and raised in Hawaii before traveling the world, Leilani finally stopped in South East Asia in 2002. She currently lives in Singapore, where she is a practicing artist and a supply teacher at the British International, Tanglin Trust School. She is also a mother to Kaimana and a wife to Chris.
Leilani's work has been exhibited internationally including England, Wales, Singapore, Australia, Germany, Canada and throughout the United States.
Awards
There will be a $200 award for best of show.
Entry Requirements and Procedures
An artist may enter up to 5 works, up to 2 images per work.
There is a non-refundable jury fee of $35 total for fist three works entered additional pieces maybe entered for $10 per piece, payable at http://clayartsvegas.bigcartel.com/ or by credit card or check.
Images must be JPEG, at 300 dpi (suggested minimums: 800 pixels in either direction, with maximum file size of 1.0 MB). Each JPEG image must be titled with the artist's last name, first name, entry number, and "detail" if you are including a detail image
Important Dates
Exhibit Dates: January 4, 2018 to February 24, 2018
Entry Deadline: November 17, 2017
Juror Results: November 21,2017
Accepted Art Work to be Delivered to CAV by: December 18,2017
Hand Delivered Work to The Clay Arts Vegas: December 18,2017
Opening Reception Best of Show Announcement: First Friday January 5,2018
Pick Up Art Work: February 28, 2018 between 10-5pm @ CAV