*works above by Katie Susko and Justin Rothshank
I'm super excited to announce that Musing About Mud is one of the many sponsors for the second installment of Growlerfest that will be on exhibit in Pittsburgh during NCECA. I was eager to work with Alexandra Jelleberg and Bradley Klem on this project as their vision for this event and exhibition aligns strongly with my beliefs of the value of handmade objects getting into the hands of new audiences. I'm passionate about projects that take pottery out of their usual gallery or domestic context and present them in new and interesting ways. Pottery, as many of artists and collectors know, has the power to effect change on our awareness of everyday objects and their value. Quality handmade ceramics are not only beautiful in their function, but also in their skilled execution, and ability to convey the vision, ideas and aesthetic leanings of the individual artist's creative voice. Ever since Alexandra and Bradley began this project in 2015, I've been following along closely and am honored to be one of the participating artists. The collaborations that Growlerfest has established between artists, local breweries, and their patrons, is an innovative way to grow new audiences for ceramics. This year's Growlerfest, in partnership with Brew House Association, is part invitation, part juried exhibition and all parts exceptional international ceramics. I hope to see lots of familiar and new faces at the reception in Pittsburgh. Let's come together and raise a glass to how pottery (and beer) enriches our lives and experiences.
The Brew House Association, along with project coordinators Alexandra Jelleberg and Bradley Klem, are hosting GrowlerFest in Pittsburgh, PA. The NCECA Venue Originated Exhibition is comprised of an exhibition of beer growlers, jugs, and other containers used for storing or serving beer. The invited artists' pieces will be complemented by juried selections through an open call. The Exhibition is free and open to the public.
A Special Reception & Beer Mixer will happen at the Brew House Association during the NCECA conference on Friday, March 16th 6-10pm. The exhibition entry is free and VIP tickets are $25 at the door, $20 in advance and includes a select draft pour & bar snacks, a special VIP tour of "The SpeakEasy Loft" with views of the Pittsburgh skyline, access to "The Distillery" with resident artist studios, & a raffle ticket for a chance to win one of several prizes. All proceeds from the event go towards supporting Brew House Association arts programming.
GrowlerFest will be at the Brewhouse Association, located at 711 South 21st St., Pittsburgh, PA, 412-381-2000. Open hours will be extended during the conference: Tue-Sat 11am-2pm, Saturdays 11am-2:30pm, or by appointment (10am-5pm).
Studio Potter Issue Launch: Join us 5:30 p.m., Friday, March 16th, at the Brew House Association in Pittsburgh to celebrate the launch of our upcoming issue, Volume 46, Number 1, Winter/Spring 2018, "Regional Perspectives and Pottery Tours"!  Light refreshments will be provided, non-members can sign-up to receive a free, one-year, digital membership, and all attendees will be entered into a raffle for new SP logo merchandise, our new poster, print issues, and tickets to GrowlerFest (see below). Editor, Elenor Wilson, will speak briefly about new opportunities at Studio Potter, and will be available to answer questions about the organization and the journal.
GrowlerFest 2018 Invited Artists
Nicole Aquillano, Amanda Barr, Jessica Brandl, Tom Budzak, Ben Carter, Adriana Christianson, Blair Clemo, Carole Epp, Adam Field, Chase Gamblin, Perry Haas, Ayers Design: Meredith Host & Alex Watson, Michael Kline, Lorna Meaden, Didem Mert, Steve Theberge, Kyla Toomey, Mariko Paterson, Justin Rothshank, Liz Quackenbush, Gwendolyn Yoppolo
---
GrowlerFest Juried Artists
Michael Bishop, Paul Blais, Mike Bowen, Kathryn Davis, John Domenico, Ashley Gauntt, Brenna Gerlach, Jim Gottuso, Kyle Guymon & Melissa Yungbluth, Kevin Kowalski, Alex & Lisa LaPella, Ryana Lawson, Kristin Lemieux, Jenifer Levine, Mac McCusker, William Mueller, Sarah Newberry, Ashlyn Pope, John Reinking, Emma Rimi, Erin Robison, Alexandra Saunders, Jay Schmidt, David Smith, Katie Susko, Andrew Tarrant, Clive Tucker, Adam Yungbluth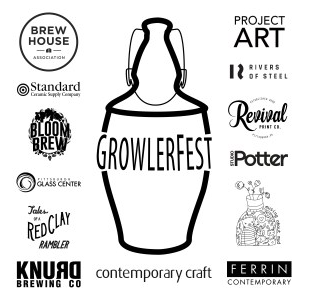 projectart01026.com/growlerfest