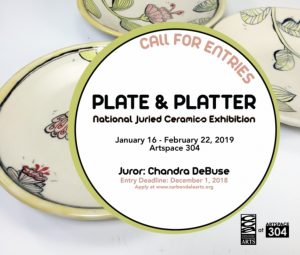 Entry deadline is Saturday, December 1, by Midnight Hawaii–Aleutian Standard Time (HST).
Carbondale Community Arts will host Plate & Platter: National Juried Ceramics Exhibition from January 16 through February 22, 2019 at Carbondale Community Arts Artspace 304, located in downtown Carbondale, in collaboration with Southern Illinois University Carbondale's School of Art and Design Ceramics area.
Plate & Platter 2019 will be the first in a biennial national juried exhibition showcasing functional and sculptural ceramic plates and platters with innovative surface, form, function, and/or concept. This inaugural exhibition will be juried by ceramic artist Chandra DeBuse.
Eligibility: Open to all artists 18+ living within the United States. Works must measure no more than 20" in any direction or weigh more than 50 lbs and must be ready for display. Work must be 70% ceramic, completed within the last three years, and address the theme of plate and/or platter. Please indicate on image list any installation instructions. Specialty hardware or accessories such as plate hangers must be provided by the artist.
Fee: Artists may submit images of up to three works for a non-refundable $30 fee. Selected exhibitors are responsible for shipping costs; pre-paid return-shipping labels must be sent along with accepted work. Submissions will not be considered complete until both the entry submission and the entry fee have been received by Carbondale Community Arts. Plate & Platter: National Juried Ceramics Exhibition Application Fee is payable to Carbondale Community Arts via PayPal link HERE
Submission Guidelines: Images must be formatted JPEG or JPG, under 5MB with a minimum of 1200 pixels on the longest side. File names should include your name and the title of the artwork in the following format: "Lastname_Firstname_Title.jpg". All images should accurately reflect the work submitted. Substitutions for accepted works are not allowed. By submitting an entry application, the artist agrees to gallery's use of images for advertisement purposes.
Juror:  Chandra DeBuse is a studio potter in Kansas City. She received her MFA from the University of Florida in 2010. Her illustrated pottery has been featured in several magazines and publications including the books Humor in Craft, Graphic Clay and New Ceramic Surface Design. DeBuse has presented her work as a 2012 NCECA Emerging Artist, at SOFA Chicago, at the 2016 Utilitarian Clay Symposium at Arrowmont School of Arts and Crafts and at the 2018 Alabama Clay Conference. She is a founding member of Kansas City Urban Potters. She has led over 50 workshops on designing illustrated pottery at art centers nationwide. For more about Chandra see ChandraDeBuse.com.
Events & Awards: Cash and ceramics vendor awards will be selected by the Juror Chandra DeBuse. A reception including an award presentation and Artist Lecture by Chandra Debuse will be held on Friday, January 25, from 5 – 7 PM. On Saturday, January 26, the juror will give an artist demonstration from 9 AM – 3 PM at Artspace 304. The public is welcome to attend.
Sales: Carbondale Community Arts retains a 30% commission on works sold during the exhibition. List on the entry form if it work not for sale (NSF) under retail sale price. Payment to artists for artwork sales will be issued by Carbondale Community Arts 2-4 weeks after the close of the exhibit.
Shipping: Exhibitors are responsible for shipping costs; pre-paid return-shipping label must be sent along with accepted work. All work must be double boxed (pack each item with ample padding in a small inner box and pack small box(es) surrounded by tightly packed padding with 2 inches of "float space" within the outer shipping box). Carbondale Community Arts is not responsible to damage that occurs during shipping. Items must be ship and arrive at the gallery no later than Thursday, January 10, 2019.  Mail to:
Plate & Platter: NJCE
℅ Carbondale Community Arts
304 W Walnut Street
Carbondale, IL 62901
Delivery of Accepted Works: Once artists have been notified regarding accepted pieces (December 15, 2018), A signed exhibition contract is required with shipment or delivery of work.  A pre-paid return-shipping labels must be sent along with accepted work. Accepted works may be shipped via UPS, FEDEX, USPS or hand-delivered, but must arrive no later than Friday, January 10, 2019. Works may be hand-delivered to the Carbondale Community Arts, 304 W Walnut Street, Carbondale, IL 62901 during gallery hours Wednesday & Friday 11 – 5 PM, Thursday 11 – 7 PM or by appointment. All works must be display ready, any hanging devices or special hardware needed for installation are the responsibility of the artist.
Gallery Info: Carbondale Community Arts Artspace 304 is located at 304 W Walnut Street, in downtown Carbondale, IL. Artspace 304 is a multi-functioning community artspace with room for exhibits, small performances, and educational programming. Additionally, Artspace 304 houses the Mary Ellen Dillard Media & Performance Gallery and Carbondale Community Arts administrative offices. For more information visit www.carbondalearts.org or Facebook or Instagram @carbondalecommunityarts.
Contact: Stephanie Dukat, Carbondale Community Arts Exhibit Curator at info@carbondalearts.org
Calendar:
Entry deadline: Midnight (Hawaii Aleutian Standard), December 1, 2018
Acceptance notifications: December 15, 2018
Works received by: January 10, 2019
Exhibition dates: January 16 through February 22, 2019
Juror Lecture & Award Announcements, Public Reception: January 25, 2019  5 – 7 PM at Artspace 304
Juror Demonstration: January, 26, 2019,  9AM – 3PM at Artspace 304
Return Shipped: March 2, 2019