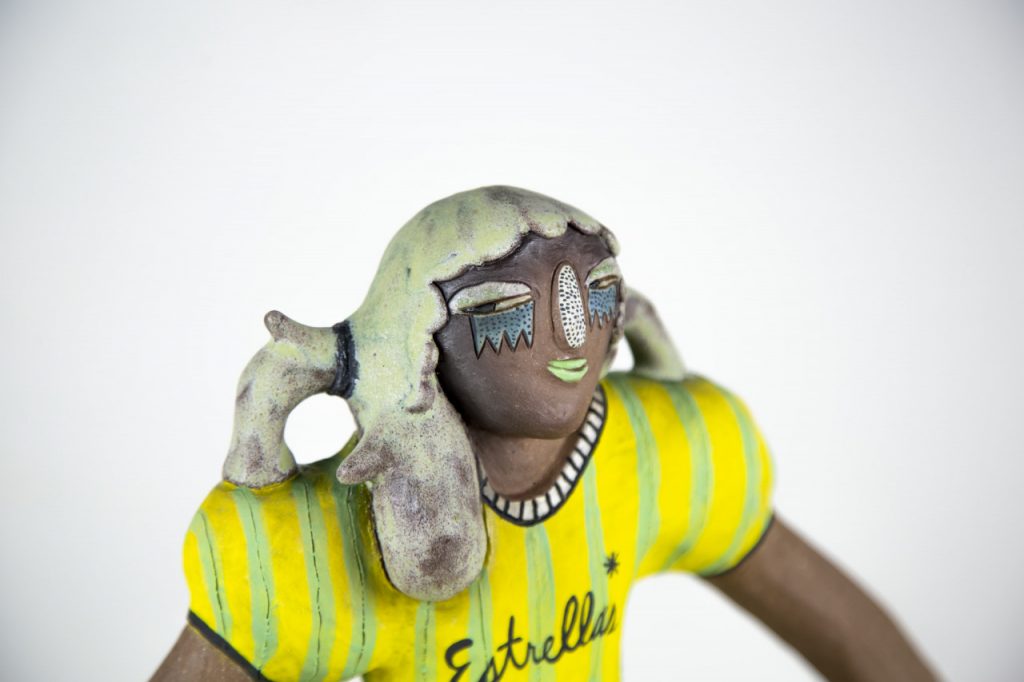 Kristy
Moreno's work is so incredible! We're so lucky to have the chance to learn from her this weekend through The Ceramic School! Come hang out and learn all about creating fabulous figures with Kristy!
"Hello my name is Kristy Moreno and in this workshop I will be showing you how I create one of my characters out of clay! The way I like to build my characters is by building them solid, hollowing them out in sections and then reattaching them back together. This process allows me the freedom to draw with the clay and I love being able to improvise each figure. Before I begin, I just want to say thank you in advance for wanting to see my workshop! I hope you enjoy learning about my building process and please let me know if you try this method out for yourself in the future. Now, let's get started!"
When you buy this workshop, you get:
Watch my Live Online Workshop

The workshop is taking place on 16th January 2022 at 10 AM PST, 1 PM EST, 7 PM CET
The workshop will be around 1 hour long.

Bonus Q&A

Join my bonus Live Q&A where I answer questions about my process face-to-face

Lifetime Access to the Replays

The workshop and the Q&A are recorded, and you will have lifetime access to it. You can watch it online, or download it to your device to watch offline at any time
About Kristy: "My current body of work examines the systems and bonds between social, political, and personal narratives. These narratives intersect to embody forms of relativity, healing and resilience. By producing these physically paused moments, I introduce a space for reflection which investigates the journey of my personal point of view, individual habits and character.
​
My sculptures and prints are my thoughts made physical from studying the human condition and my reactions to the injustices brought to light in the recent months. As I thought about the I.C.E. raids, concentration camps, and prisons that directly affect Black, Brown, and Indigenous communities today, I began experimenting with combining personal photographs, screen printed elements, and lyrics in order to tell a story that others could possibly relate to. In the way that Barry McGee and Margaret Kilgallen often depicted the residents of San Francisco, I chose to portray Chico organizers along with my own fictional characters to actively visualize a future abundant in mutual aid. When combining ceramics and printmaking, I participate in recording historical events, spreading awareness and thus manifesting brighter futures based in science fiction such as writer adrienne maree brown does when explaining that all activism is a form of science fiction. In overcrowding these physical spaces with overlapping details, I acknowledge the clutter that inevitably distracts us from practicing empathy and acknowledging our own humanity.
Kristy Moreno was born in the city of Inglewood, California and often found herself creating doodles of her favorite cartoons. Moving to Orange County inspired her to become involved in the art communities of Santa Ana, leading her to collaborate with group collectives including We Are Rodents and Konsept. She then attended Santa Ana College where she found an interest in ceramics that led her to transfer to California State University, Chico to pursue a BFA degree. Her work now spans across mediums from ceramics, illustrations and printmaking to bring awareness and visibility to an abundant future where mutual aid is possible.