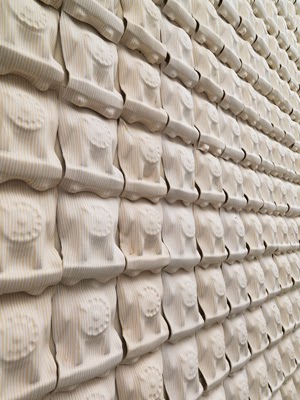 Image: Ian Johnston, Between the Lines (Light) (detail), 2010. silkscreened stoneware. Photo: Serge Hagemeier.
Ian Johnston: Reinventing Consumption
Organized by Dunlop Art Gallery in partnership with Access Gallery,
Art Gallery of Swift Current, Esplanade Art Gallery, McMaster University
Art Gallery, and The Robert McLaughlin Gallery.
January 31 to April 3, 2014
Curated by Wendy Peart
Artist Talk: Friday, January 31, 6:00 pm, RPL Film Theatre
Opening Reception: Friday, January 31, 7:00 pm, Central Gallery
Reinventing Consumption is a three-room installation by
sculptor Ian Johnston, whose work investigates object production while
questioning the cycles that eventually see the castoffs of the material
world enter sensitive biological ecospheres. The first space, The Inventor's Room, provides a glimpse into the glorious creative process of making. The Antechamber enlists the tropes of mass production and considers the scale at which we create and consume. The Chamber provides a space to contemplate the environmental impact of mass production through the forces of breath, fire, and water.
Ian Johnston is an architect-turned-sculptor based in Nelson, BC. He
has exhibited his sculptural ceramic work internationally since the
mid-nineties. Johnston studied architecture at Algonquin College and
Carleton University in Ottawa, and with the University of Toronto at
Paris, France. Prior to opening his Nelson studio in 1996, he spent five
years working at the Bauhaus Academy in post-Berlin Wall East Germany.
At the Bauhaus, together with two architects, he developed and
facilitated a series of semester-long international, interdisciplinary
workshops around themes of urban renewal and public intervention in a
tumultuous time of cultural transformation. His current work examines
our relationship with the environment in installations that use ceramic
and mixed media and appeal to multiple senses of the viewer.
Dunlop Art Gallery
Regina Public Library
2311 12th Avenue
Regina SK
Canada S4P 3Z5
www.dunlopartgallery.org/exhibitions/upcoming.html
www.ianjohnstonstudio.com/work/2010-2013-reinventing-consumption/