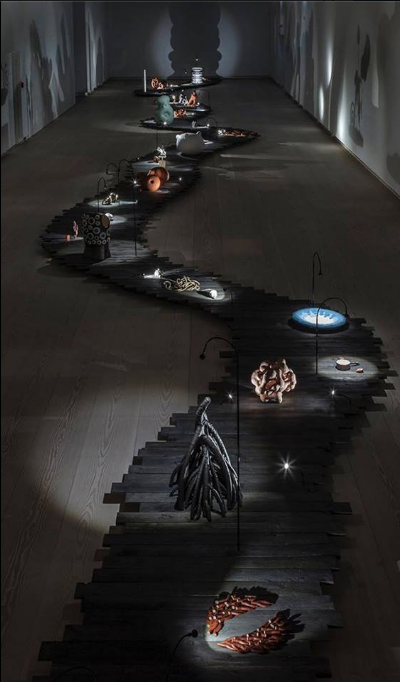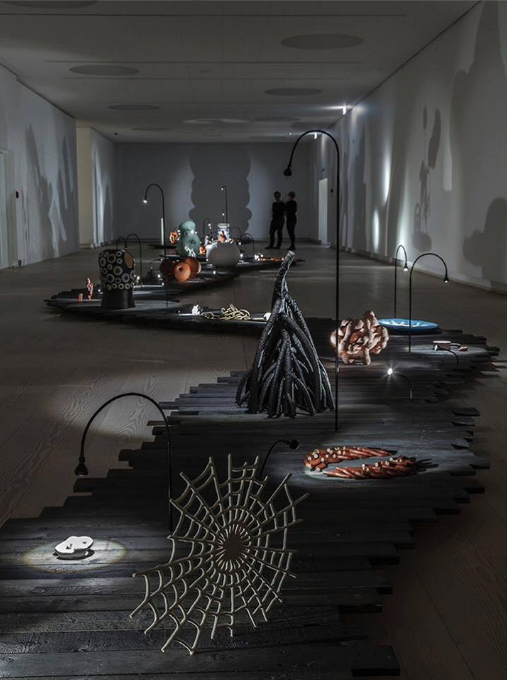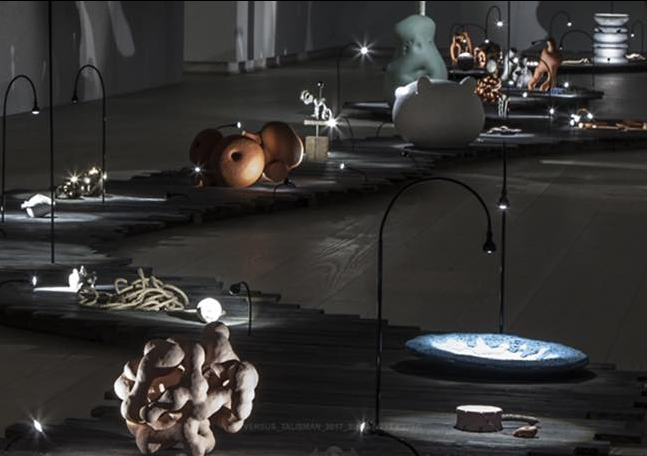 Med denne udstilling er der lagt op til et
sceneskift af de helt store på CLAY. Kunstnergruppen VERSUS skaber en
totalinstallation, der iscenesætter deres keramiske objekter i ét
sammenhængende kunstværk. Gennem scenografi og arbejde med lys og skygge
vil publikum blive inviteret ind i et univers, der understreger
objekternes magiske karakter, og giver beskueren en flerdimensionel
oplevelse.
En talisman er en "magisk genstand", som
tillægges evnen til at gøre noget godt for den, der bærer den. De har
været brugt i religiøse eller ceremonielle sammenhænge langt tilbage i
menneskehedens historien – og i keramikkens. Faktisk regner man den
ældste kendte keramiske genstand i verden, en ca. 26.000 år gammel
Venusfigurine, for at have været en talisman for frugtbarhed.
Ideen om, at ting kan have særlige egenskaber,
trives også i dag, f.eks. når man har en lykkemønt i kommodeskuffen, et
særligt vedhæng til halskæden, en god sten i lommen eller et mantra, der
messes for at holde styr på den mentale balance.
Kunstnergruppen VERSUS vil med udstillingen
præsentere et bud på en moderne talisman i en keramisk kontekst og
derigennem bringe spørgsmålet om tro og irrationalitet ind i vores
nutidige, rationelle tænkning.
VERSUS består af Ane Fabricius Christiansen, Camille Rishøj Nielsen, Lea Mi Engholm, Mariko Wada og Sissel Wathne.
(via google translate) This exhibition is set for a scene change of the greats in the CLAY. The artist group VERSUS creates a total installation that stages their ceramic objects in one continuous piece of art. Through set design and work with light and shadow, the audience will be invited into a universe that emphasizes the objects' magical character, and gives the viewer a multidimensional experience.
A talisman is a "magic object" conferred the ability to do something good for the one who wears it. They have been used for religious or ceremonial contexts far back in human history – and in ceramics. In fact, it is estimated the oldest known ceramic object in the world, approximately 26,000 years old Venus figurines, for having been a talisman for fertility.
The idea that things may have special properties that thrive even today, for example. when you have a lucky coin in the dresser drawer, a special pendant necklace, a good stone in your pocket or a mantra that messes to keep track of the mental balance.
The artist group VERSUS will the exhibition present a proposal for a modern talisman in a ceramic context and thus bring the issue of faith and irrationality into our contemporary, rational thinking.
VERSUS consists of Anne Fabricius Christiansen, Camille Rishøj Nielsen, Lea Mi Engholm, Mariko Wada and Sissel Wathne.
claymuseum.dk/udstilling/talisman-magiske-objekter/
CLAY
KERAMIKMUSEUM
DANMARK
Grimmerhus
Kongebrovej 42
DK-5500 Middelfart
+45 6441 4798
info@claymuseum.dk