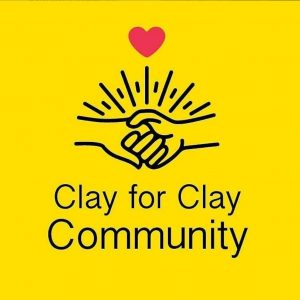 The ability for potters and ceramic artists to earn their usual income has been greatly affected during the COVID-19 pandemic. Exhibitions, teaching, markets and selling opportunities have ceased. The time has come for us to help each other through this difficult time. Building on the success of Clay For Australia, I would like to offer a way to keep sales happening – CLAY FOR CLAY COMMUNITY, #clayforclaycommunity. It is up and running on Instagram !
www.instagram.com/clayforclaycommunity
It's simple.
* An artist can post on Instagram up to 5 works (at any one time) on their IG, using #clayforclaycommunity as one of their hashtags.
* Anyone can buy the work. Artist keep the payment!!
* Every time the artist has 5 sales, they buy 1 work by another artist (valued at 20% of total of the 5 sales).
* Follow #clayforclaycommunity to see all the work being offered for sale.
* Keep an eye on the @clayforclaycommunity for news, opportunities and announcements.
* Repost our campaign and tell your family, friends, colleagues and collectors. * Be generous and share the love! More detail on ww.instagram.com/clayforclaycommunity
I hope Clay For Clay Community will help you deal with this difficult time a little easier and hope that you will take part on this project. \
Best wishes
Vipoo Srivilasa