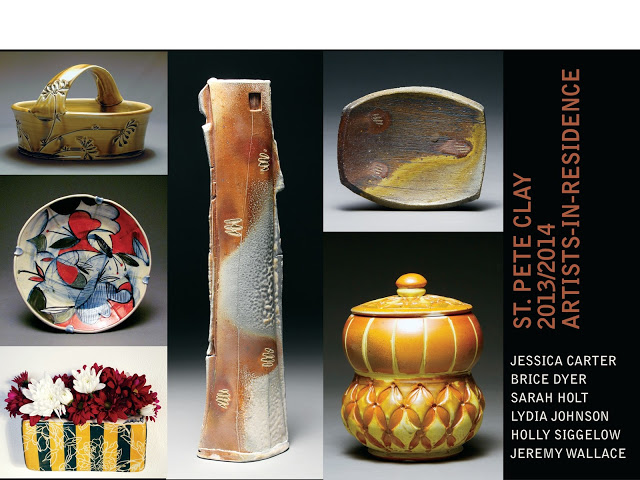 Each August St. Pete
Clay welcomes in a new crop of Artists-in-Residence. The purpose of
this exhibition is to familiarize the community with this year's group.
New AIR's include Lydia Johnson most recently completed Post
Baccalaureate fro University of Hartford, Sarah Holt, Core Student at
Penland, Jeremy Wallace, Resident at Baltimore Clayworks and Holly
Siggelow, Member of St. Pete Clay. Returning Artists-in-Residence are
Jessica Carter and Brice Dyer. Residents will also be giving artist
talks on their work, past experiences and inspirations. Free and open
to the public!
Artist Participating: Jessica Carter, Brice Dyer, Sarah Holt, Lydia Johnson, Holly Siggelow, and
Jeremy Wallace.
Open from: August 2-31st
Opening Reception: August 10th 6-9pm
Artist Talks: September 5th 6-9pm
St. Pete Clay 2013
420 22nd Street South,
St. Petersburg, FL 33712
p# 727-896-2529