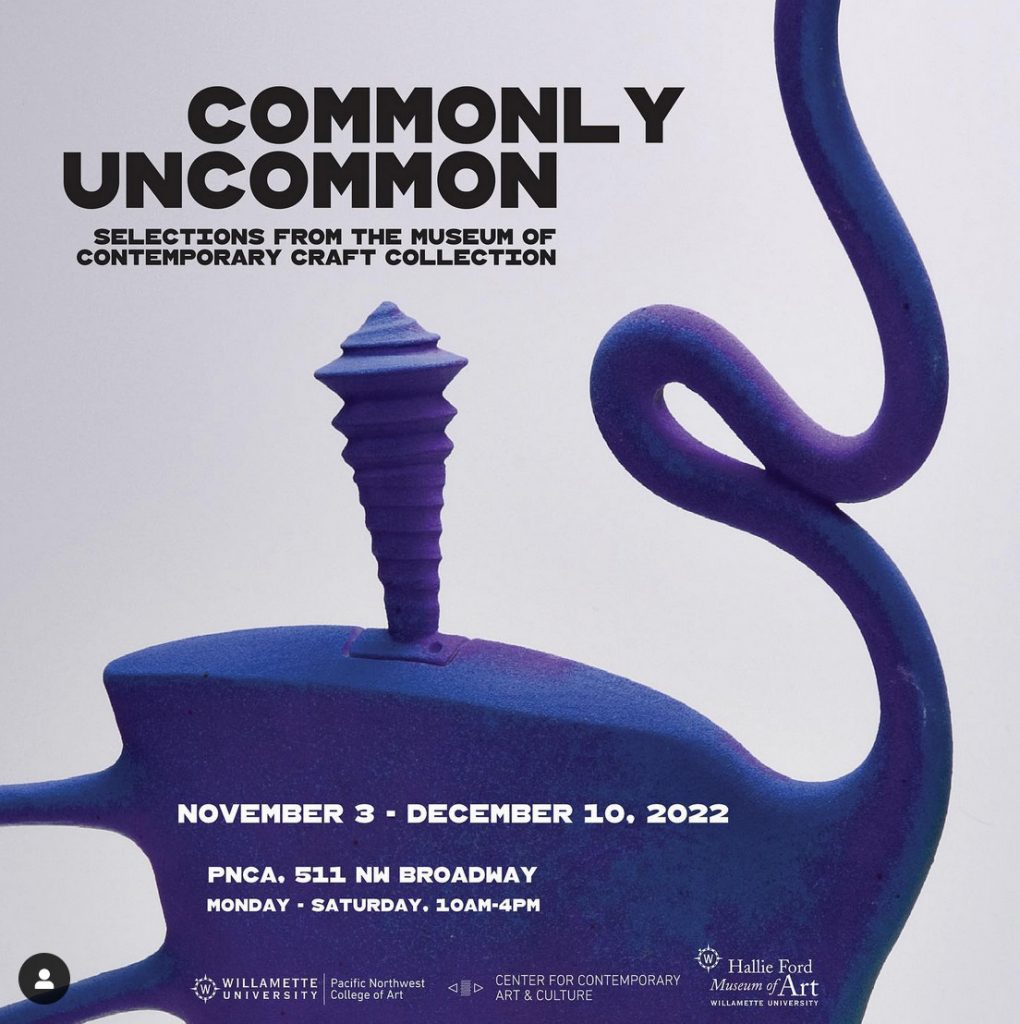 We are pleased to announce "Commonly Uncommon: Selections from the Museum of Contemporary Craft Collection", a three-part exhibition of objects and archives on view November 3 – December 10, 2022.
Co-curated by Hannah Bakken Morris, Sara Huston and Abby McGehee.
Please join us for a public reception on Thursday, November 3 from 5-8-pm and return in the following weeks of November for a panel discussion and film viewing.
The Museum of Contemporary Craft served as a vital nexus for the consideration of art, craft and design in Portland from its founding in 1937 to its dissolution in 2016. The permanent collection and the institutional archives, under the stewardship of PNCA and Willamette University, remain important resources for these continued and ever-shifting conversations. This exhibition presents objects that illuminate issues of function, use, the nature of labor, and methods of production. Viewers can engage with both objects and archives to understand the way in which they inform one another as well as the multiple ways makers, curators and audiences appreciate and define an institution and its place in a regional artistic ecology.
A complimentary panel discussion about the collection, craft, and community-building will take place on Thursday, November 17, 2022 from 6:30-8pm at the Lemelson Design and Innovation Studio on the 1st Floor of PNCA. This discussion will be moderated by Namita Gupta Wiggers (past Curator for the Museum of Contemporary Craft) and will include exhibiting artists Hilary Pfiefer, Joe Feddersen, Charissa Brock and other exhibiting artists. This event is open to the public, free of charge.
Additionally, please join us a week earlier to attend a screening of "Handmade Nation: The Rise of D.I.Y. Craft, Art and Design", a film made by exhibiting artist Faythe Levine, in the PNCA Mediateque on Thursday, November 10th at 5pm. This film is the culmination of nationwide research and interviews for which its archive will be displayed in the Dane Nelson and Ed Cauduro Collection Studies Lab at PNCA, as part of the Commonly Uncommon exhibition. This event is open to the public, free of charge.