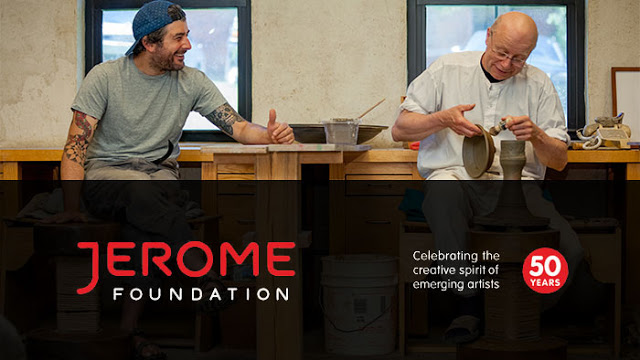 The Saint John's Pottery Jerome Foundation Emerging Artist Program
is a studio residency for artists to experience a community-centered
approach to ceramic art using local clay and natural materials. Eligible
individuals include emerging visual artists of any
discipline (ceramics, sculpture, printmaking, painting, etc.) from
Minnesota or New York City.
Founded in 1979 by Artist-in-Residence Richard Bresnahan, The Saint
John's Pottery demonstrates a commitment to the integration of art and
life, the preservation of the environment, and the celebration of
diverse cultures. The studio is located at Saint John's University in
central Minnesota.
The Jerome Foundation
has supported emerging artists for 50 years. Created by artist and
philanthropist Jerome Hill, the foundation supports the creation of new
works by emerging artists. The term emerging artist refers to artistic
development, professional accomplishment, and recognition. The program
supports artists who are the principal creators of new work, and:
Who take risks and embrace challenges;
Whose developing voices reveal significant potential;
Who are rigorous in their approach to creation and production;
Who have evidence of professional achievement but not a substantial record of accomplishment; and
Who are not recognized as established artists by other artists, curators, producers, critics, and arts administrators.
Two award recipients are selected each year via jury to participate
in residencies at The Saint John's Pottery during the month of June.
Participants are provided studio space, clay, access to technical
assistance, an award of $3,600, and room and board. Works are later
fired in the Johanna Kiln, the largest wood-firing kiln in North America.
Application Deadline: February 12th, 2016
To apply, provide a CD with the following files in .pdf, .jpg, .doc,
or .docx format: 10 images; an image list document; an artist resume
with exhibition history; and a 1-page statement of rationale describing
why the residency will benefit the applicant. Label each image file with
only a number (01.jpg, 02.jpg) and note the number, title, year, medium
and dimensions of each work in the image list.
Please mail applications to: The Saint John's Pottery Emerging Artist
Program, 2810 Saint John's Road, Box 6377, Collegeville MN
56321. Applications must be received by Feb. 12th, 2016. Award
recipients will be notified in March for each June residency.
Submissions will not be returned.

Although age is not a factor in determining an emerging artist,
artists currently in BFA or MFA programs should finish all academic
commitments before applying. For questions about The Saint John's
Pottery Jerome Foundation Emerging Artist Program, contact Steven Lemke, Program Manager, or call (320) 363-2930.
http://www.csbsju.edu/saint-johns-pottery/programs/emerging-artist-program