For most people at this time of year there's not a lot more exciting then the annual NCECA conference, but let me tell you that in this magnificent world of ceramics there is always inspiring and wonderful things happening.
One of the perks of our community is that there are so many generous people that are willing to jump in and do incredibly charitable things for other artists. There was a great quote recently by Molly Hatch as part of the Think Big series where in she referred to the idea of "a rising tide lifting all the boats". I adore this quote. I'm a strong believer in the need for us to work together to strengthen the community; whether through education and exposure, creation of opportunities, sharing of resources and knowledge.
It seems that every chance we get to explore new social media platforms (check out all of the stuff happening over on Periscope as a prime example) we jump on board wholeheartedly with generosity and willingness to give back.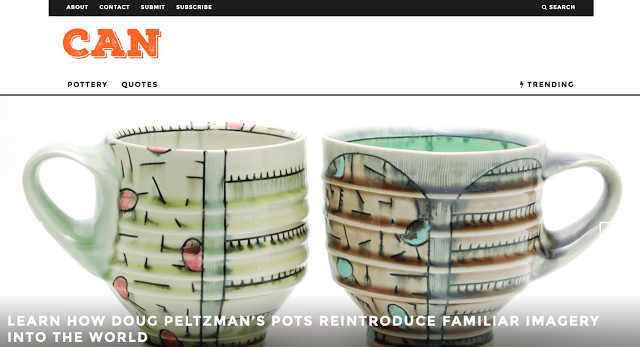 When I recently stumbled upon Ceramic Artists Now and was thrilled to see this new website up and running. What a wonderful resource and addition to our community. The folks behind the website are Rachel Donner, Agnes Z Blume, and Jeremiah Butters. I really encourage you to head over and have a look around. Read the contributors bios, and get to know some of the incredible artists they are showing.
I'm eager to be working with them over the next few weeks having them select monday morning eye candy for us to enjoy. So go check out their website, sign up for their newsletter so you don't miss a thing, and come back to musing after to enjoy the work of
 Candice Methe.
Happy Monday Everyone!
See you at NCECA this week,
xoxo
Carole