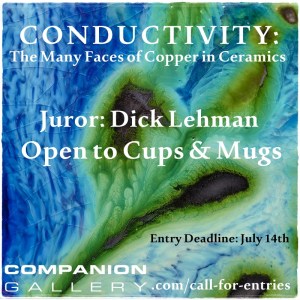 Open to Cups & Mugs
2017 Juror: Dick Lehman
 Juror, Dick Lehman will be looking for exceptional cups and mugs exploiting the full spectrum of copper's color potential. Reduced reds, oxidized greens, crystals, purples, copper decals, lusters, and washes. This is an opportunity for potters to geek out on materials and glazes, while showing collectors the myriad of color of just ONE of the materials we use daily. We will be printing a full color catalog and the entire exhibition will be available for sale online.
The Exhibition will be held at Companion Gallery 3638 East Mitchell Street, Humboldt, TN, as well as ONLINE at companiongallery.com.
A FULL COLOR print catalog will accompany the exhibition.
Participating artists will receive a complimentary print copy.
Entry Deadline: Friday July 14th, 2017 12 Midnight CST
Open to US and CANADIAN residents 18 and up. 
$30.00 for 3 Entries. Canadian Friends, please use code TIPSYCANUCKS when paying your application fee to make up for the exchange rate. Just a little love from your neighbors to the South;)
Digital Images should be labeled with the artists last name, underscore, first letter of first name, and the entry #. (Example: Skippy McGrueber would be mcgrueber_s1.jpg, mcgrueber_s2.jpg, mcgrueber_s3.jpg, etc)
Images must be print ready, well lit, in focus, 300 DPI  cropped into a square sized to 1000 x 1000. Because we are printing a catalog, photography will be an essential part of the jurying process.
one detail of each entry is welcome and should be labeled as 1B, 2B, and 3B. See above.
Email 3-6 images to Eric Botbyl at botbylpottery@gmail.com with the subject line: CONDUCTIVITY
This email IS your application.
Each Application needs to include
Artist's Name:
Email address:
website or instagram:
mailing address:
cell phone number:
a description of each image including title, type of clay, cone, kiln atmosphere, dimensions, and price.
Example:
Entry #1. Flask. Porcelain with Celadon Glaze. Soda fired to Cone 10.
5h x 3.5w x 1.5.
All work submitted should be fully functional and all glazes must be food safe. Our customers and collectors expect and deserve the highest level of craftsmanship. Be sure that feet are polished smooth and work is free of any sharp burs. 
The Companion Gallery celebrates ALL forms of expression. However, because of the number of children that frequent the gallery we will not be accepting any work considered to be profane or vulgar. Basically, there's kids around- be cool.
Application Fees are ONLY payable online. 
We look forward to seeing your entries! 
**Click HERE to pay the application fee
Deadline for Entries: Friday July 14th, 12 Midnight CST