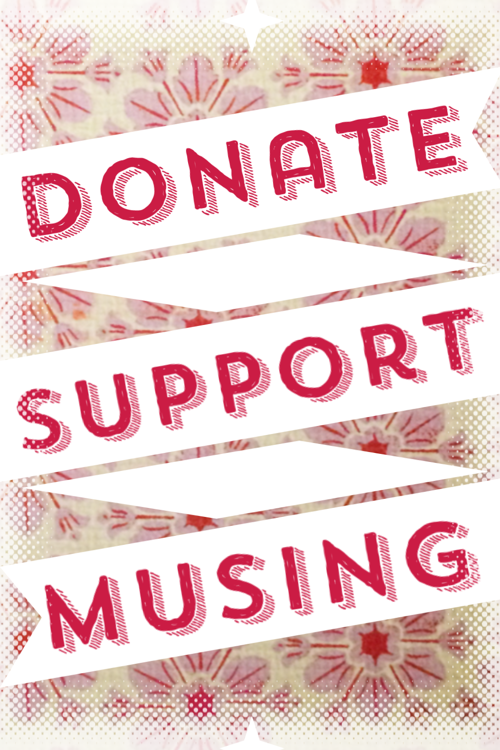 you may notice a new little image on the right hand side of the blog. it's that rectangle over there that says donate/support/musing. let's try not to talk about it too much, but it does need to be mentioned.
so i've been running this blog since 2007 and throughout the years the debate has raged regarding adding ads to the blog. sigh. i feel so awkward even talking about it…. personally i've never wanted ads. i'm kind of opposed to them. but there is a reality that needs to be addressed and that is that this blog – which i love and am passionate about continuing – is taxing on my time. the blog could be so much more i know. i'd love to see it grow and develop over the upcoming years, and i believe that it has grown substantially since 2007. but to do this i will have to put in more time. time that takes me away from my own artistic practice.
so i'd like to propose a different option rather than advertising on the blog. it's simple really and you can either ignore it or you can contribute. up to you completely. if you so kindly would like to contribute to musing and all the work that goes on to keep the blog up to date, then all you have to do is click on that DONATE image and you'll be redirected to paypal where you can send a contribution to musingaboutmud@gmail.com
i'm not asking for a lot. i know we are all broke and struggling as artists. but if everyone that read the blog gave a couple bucks a year it would be a huge difference.
i also am open to contributions of awesome art for my collection….but that's another thing : )
okay, i'm sorry.
let's be done with this awkwardness and go back to our lovely lives.
thanks for your time and all the ways in which you contribute to our clay community and to musing.
hugs,
carole
* it's a simple process but a bit confusing. since i can't just add a paypal donation button to the blog (must be a registered charity) this DONATE image will take you to a paypal page where you enter your email, my email (musingaboutmud@gmail.com) and a dollar amount you'd like to contribute. again many thanks.