When Melissa contacted me about a guest post about wholesale markets I was thrilled. This is an area of business growth I've glanced at only to shy away and figure I was no where near close enough in my practice to even consider. But at the same time I'd like to move away from consignment shops towards wholesale orders. Maybe someday I'll be orgazined enough. Thanks Melissa for this insight. You make it feel less intimidating!
I encourage everyone to comment on the post with their advice and experiences. Would be great to have a bunch of perspectives added to the discussion.
Thanks Melissa for sharing your experience and your beautiful work with us.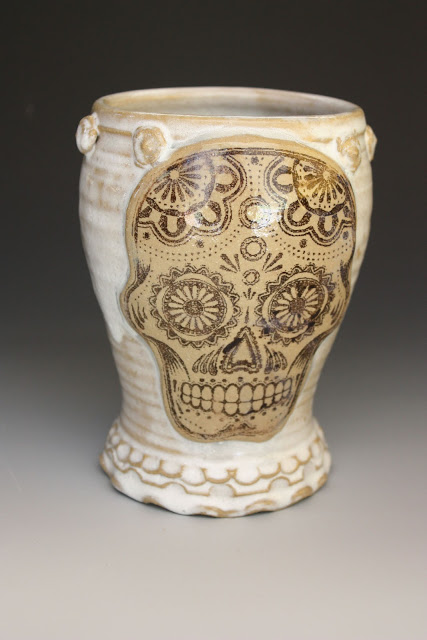 When I started making and selling pottery five years ago, it
was easy to grow my business one local show at a time. I started out with farmers markets and
grew into doing larger juried shows around the Chicago area. These shows have
been great and I have been very happy to be successful and profitable. While attending the art shows, my work
was seen by various store owners who were interested in selling my
pottery. When I was first
approached for a wholesale order, I was completely unprepared and unsure of how
to handle this type of marketing. After
a year of thinking and planning I decided to attend my first wholesale show
last January.
I attended the Beckman's Handmade Market at the Merchandise
Mart in down town Chicago. This is a market runs in conjunction with the other
wholesale shows within the Merchandise mart. I was excited to wholesale and also completely nervous. I really wanted to have a successful
show.
Most of the work I create is one of a kind and based on a
theme. I knew I had to limit my
selection of pottery for a whole sale event. I selected pieces from my most popular sellers on my Etsy
site and best sellers at my shows. I then I started narrowing down my color combinations and creating
sets for ordering. I needed to make
things that I would be able to reproduce easily with consistent results. After settling on the pieces to bring
to whole sale, I made a catalog of the work to hand out. Then I created the
hardest part, a price sheet.
It is hard to cut retail prices in half. I have a very good
idea of what price point my pieces will sell and I knew doubling my retail
would not work. When I consider
show fees and time spent and fairs (rain or shine), I knew I could accept half
of the retail cost and still make a profit.
The wholesale show itself is an entirely different event
from a regular art show. The
crowds are smaller and the pace is much slower. Buyers want you to be ready to
point out best sellers and write up the order (bring a clip board). Payment for work is usually collected
when the items are shipped out, not when ordered. Some artists take half up front and collect credit card
numbers at the show. It is up to the artist how they choose to take payments.
The show went well and I made my personal goal of finding
retail stores that want to sell my work.
I feel comfortable that I can fill these orders within reasonable amount
of time. I am hoping reorders will continue to help me grow my business and
maintain a steady income throughout the year. Wholesale may not be for every artist, but for myself, I am
glad that I tried this method of selling my work.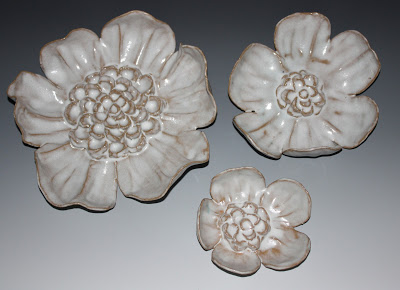 Melissa Monroe is an artist living and working in Mokena IL.
She sells her work through her Etsy store Melissa Z Monroe Pottery and at shows around Chicago.
You can see her work at www.melissazmonroe.com